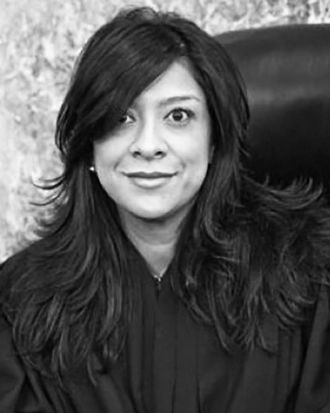 Photo: Rutgers University
On July 19, a gunman shot and killed the son of a federal judge in Newark, New Jersey, at the family's home, and shot and injured her husband in the same attack.
Judge Esther Salas, 51, New Jersey's first Hispanic woman appointed as a U.S. district judge, was in the family's house at the time of the shooting but was not injured; her husband, Mark Anderl, a 63-year-old attorney and former Essex County assistant prosecutor, is reportedly in stable condition. Investigators have since identified a suspect: Roy Den Hollander, a self-described "anti-feminist" lawyer with a fixation on Judge Salas, who died by apparent suicide shortly after the attack. Authorities say Den Hollander kept a list of at least a dozen other targets, and have since linked him to the killing of another lawyer on July 11.
What happened to the Salas family?
ABC News reports that at around 5 p.m. on July 19, Salas's son Daniel Anderl, a 20-year-old freshman home from Catholic University in Washington, D.C., opened the door to their Newark residency for the gunman, who was dressed in an outfit described to police as a FedEx uniform. North Brunswick mayor Francis Womack told ABC News that Daniel "was shot through the heart." The assailant then shot Salas's husband Mark multiple times before fleeing. Salas was in the basement of the house, NBC News reports.
The day after the shooting, two law-enforcement sources told CNN that the suspected assailant died by what is believed to be a self-inflicted gunshot wound.
Police have identified a prime suspect
The Washington Post confirms that federal agents and police are investigating 72-year-old Roy Den Hollander, a lawyer who was found dead in New York, as their "primary suspect," according to FBI and the U.S. Attorney's office. Den Hollander's body was discovered last Monday in Sullivan County, about a two-hour drive from the scene of the shooting.
Den Hollander has a history of misogyny and a bizarre fixation on Judge Salas
According to the Daily Beast, Den Hollander was known for filing several "men's rights"–related lawsuits, arguing that ladies' nights at clubs and women's-studies programs at universities were unconstitutional. On his personal website, he reportedly described himself as an anti-feminist. BuzzFeed reports that Hollander expanded prolifically upon his views "in a more than 1,700-page autobiography uploaded to the Internet Archive on March 22."
Den Hollander's writings also indicate a consuming fixation on Judge Salas, whom he once called "a lazy and incompetent Latina judge appointed by Obama," the New York Times reports. The Atlantic also reports that, in one of his screeds, Den Hollander referred to Judge Salas as an "affirmative action" case advanced by those he believes wanted "to convince America that whites, especially white males, were barbarians, and all those of a darker skin complexion were victims."
Den Hollander filed a lawsuit that went before Salas's court in 2019, arguing that it was unconstitutional for women not to be subjected to the military draft as men are, one in the series of cases he put forth claiming sexism against men. Unlike with most of his similar cases, however, Salas did not throw out the case, which only appeared to anger Den Hollander more. In his writings about the case, he comes up with the notion that Salas was delaying the lawsuit to further her career. He also attacks Salas on the basis of her race and gender. "Female judges didn't bother me as long as they were middle age or older black ladies," he writes. "They seemed to have an understanding of how life worked and were not about to be conned by any foot dragging lawyer. Latinas, however, were usually a problem — driven by an inferiority complex."
The Times reports that Den Hollander left the case last summer, and told the lawyer who replaced him that he had terminal cancer. A law-enforcement official told the Times they are looking into whether Den Hollander might have been motivated by "taking out" those he hated before he died. He writes in his manifesto, "The Feminists should be careful in their meddling with nature. There are 300 million firearms in this country, and most of them are owned by guys."
Elsewhere in his writings, Den Hollander describes himself as a former volunteer for Donald Trump's presidential campaign and bloviates against Barack Obama. He writes that Supreme Court Justice Sonia Sotomayor, the first Latina justice who was also appointed by Obama, was "angry that nobody had invited her to her high school senior prom," and also makes derogatory remarks about immigrants, LGBTQ people, and Muslims.
Investigators have determined Den Hollander killed lawyer Marc Angelucci a week earlier
Investigators have concluded that Den Hollander traveled to Southern California and on July 11 killed Marc Angelucci, another men's rights attorney whom he considered a professional rival. In that case, too, the suspect was believed to have worn a FedEx uniform. Angelucci was vice president of the National Coalition for Men, which removed Den Hollander from its board some years ago, allegedly after he threatened the group's current president.
On Friday San Bernardino County authorities released images from two California train stations that show Den Hollander was in the area just around the time Angelucci's killing. Officials believe Den Hollander arrived in California by train on July 7. Four days later, they say, he drove a rental car to Angelucci's home and shot him.
Den Hollander kept a list of potential targets
Den Hollander had reportedly kept a list of at least a dozen targets, which authorities found inside a rented car in the Catskills near where the suspect killed himself. On Saturday the Times reported that the list contained the name of three other judges and two doctors, according to three sources.
Included on the list too were Judge Salas and Angelucci. New York's chief judge was included on the list, as was a federal judge in New Jersey and a state judge in Manhattan who, like Salas, had agreed to hear one of his cases. Two sources told the Times that both of the doctors on the list are oncologists and at least one had treated Den Hollander.
The FBI, which is investigating the shootings, has not commented on the list, but investigators said last week they were looking into the possibility that Den Hollander was determined to take revenge on those he considered his enemies before he died.
Friends of the Salas family, including New Jersey politicians, have offered condolences.
Several New Jersey politicians have expressed condolences to Salas and her family. The state's governor, Phil Murphy, wrote on Twitter, "Judge Salas and her family are in our thoughts at this time as they cope with this senseless act." New Jersey senator Bob Menendez said in a statement, "I know Judge Salas and her husband well, and was proud to recommend her to President Obama for nomination to New Jersey's federal bench. My prayers are with Judge Salas and her family, and that those responsible for this horrendous act are swiftly apprehended and brought to justice."
This post has been updated with additional information.