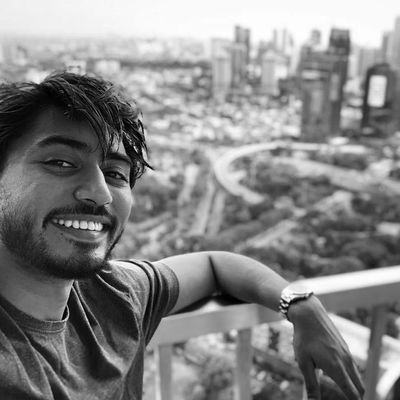 Fahim Saleh
Photo: Fahim Saleh/Instagram
On Tuesday, New York City police received a report of a gruesome killing on Manhattan's Lower East Side. The body of 33-year-old tech entrepreneur Fahim Saleh had been cut limb from limb and shoved into trash bags scattered around his apartment.
According to the New York Times, investigators believe Saleh's assailant followed him into his apartment and subdued him with a Taser before stabbing him to death and then dismembering his body with an electric saw. The grisly attack may have been interrupted by Saleh's sister, who decided to visit his apartment to check on him after an uncharacteristic period of radio silence. On Friday, police arrested a suspect: Saleh's personal assistant, 21-year-old Tyrese Devon Haspil.
Here's everything we know about Saleh's death.
Who was Fahim Saleh?
According to the Washington Post, Saleh was a venture capitalist who tended to focus on expanding technology in developing nations. Most recently he founded Gokada, a motorcycle ride-hail app operating in Lagos, Nigeria. Three years prior to that, he helped launch Pathao, a ride-hailing service in Bangladesh, his parents' country of origin.
Saleh began building websites in his teens, starting with a platform his family could use to plan events, and branching out to a blog where his friends could chat. In college, he created a Facebook-based food-delivery app for fellow students; after he graduated, he made PrankDial.com, a website where users could purchase and send prerecorded calls.
"Fahim found success at an early age and built on it year after year, while remaining grounded and committed to helping others," his family said in a statement to the Times. "No matter what he did, he did it while thinking of the greater good and his family. His parents and his sisters were his light and he was theirs. There are no words or actions to provide any of us comfort except the capture of the person who exhibited nothing short of evil upon our loved one."
How did Fahim Saleh die?
Based on footage from security cameras, police believe that on Tuesday, Saleh's attacker — masked and dressed entirely in black — followed him from his luxury condominium's elevator into his apartment. Video shows Saleh struggling with the assailant, who appears to have deployed a stun gun; then, police say, Saleh died after suffering multiple stab wounds to his neck and torso. The attacker then began dismembering (and decapitating) Saleh's body "some time after" that, the Times reports.
However, police believe the killer was interrupted before finishing the job: around 3:30 p.m., Saleh's sister arrived at his apartment, which was purchased for $2.25 million in 2019, She hadn't heard from her brother in a day and wanted to make sure he was okay. When she showed up, she found the saw still plugged in and his torso nearby. She called the police, who found Saleh's bagged limbs and head in other parts of the apartment. The killer reportedly left behind cleaning supplies and appeared to have tried to clean up some of the mess.
Investigators currently suspect that the attacker fled through the home's back entrance and down the stairs, although it remains unclear how they entered the building — which does not have an attendant at the door but does, allegedly, have heavy security measures — to begin with. Police are investigating the death as a homicide and are assessing footage from nearby security and traffic cameras.
Police have arrested a suspect: Saleh's personal assistant.
On early Friday morning, police arrested Tyrese Devon Haspil, 21, who was employed as Saleh's personal assistant. According to two officials, Haspil is expected to be charged in a criminal complaint with second-degree murder and "other crimes," the New York Times reports. Detectives have also named a potential motive: Before his murder, Saleh reportedly discovered that Haspil had stolen tens of thousands of dollars from him. However, the Times notes that Saleh never reported the alleged theft and had instead crafted what was effectively a repayment plan.
Friends described Saleh as thoughtful and passionate.
Saleh had a "really big smile," Nigerian tech entrepreneur Gossy Ukanwoke told CNN. "Fahim was a very sharp and smart thinker; he knew exactly what he wanted," Ukanwoke said. "In conversation, he could think on his feet and was able to see things differently to everyone else."
Other friends described Saleh as intensely thoughtful and giving, sharing his wealth with friends and family. And according to Sumeet Rametra, Saleh's friend since college, "he was a machine" when it came to business. The 33-year-old "never stopped," Rametra told the Times, and was continually working on new ideas.
"He believed that the future of the world lied in emerging markets and was 100 percent committed to making it come true," Nadayar Enegesi, co-founder of the Lagos-based housekeeping app Eden, told CNN. "He was thoughtful and had an air of clarity and purpose in life. His passion was contagious. As far as the Nigerian tech ecosystem is concerned, Fahim was one of us and loved by us."
This post has been updated.