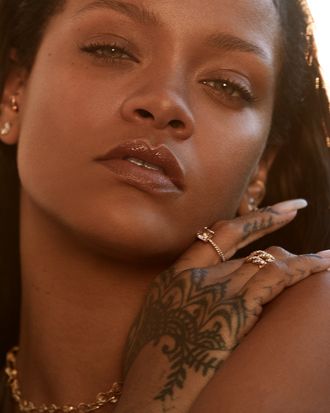 Rihanna
Photo: Courtesy of Fenty Skin
It's been a long ten days since Rihanna gave us a glimpse of her Fenty Skin pool party, but we now know the exact products that made A$AP Rocky, Lil Nas X, and Paloma Elsesser look so damn glowy.
Yesterday, our pope returned to her YouTube pulpit with a six-minute video explaining everything you've been wondering about Fenty Skin, from the ingredients inside those three dewy, poolside bottles to the packaging encasing them, plus even how to properly pronounce the fruit quince.
Here, what you need to know before the brand's official launch on FentySkin.com this Friday, July 31.
The line is launching with three products known as the Fenty Skin Start'rs.
If you find yourself overwhelmed and paralyzed by the thought of carving out a semblance of a skin-care routine from the billions of options that currently exist, congratulations — you and Rihanna have that in common! She, however, was officially over it and created an easy, streamlined routine of three two-in-ones designed to leave everyone clean and glowy.
First up is the Total Cleans'r Remove-It-All Cleanser, an oil-free, creamy makeup remover-cleanser hybrid that removes everything (including long-wear makeup) without drying out the skin. You can use this day and night. Step two is the Fat Water Pore-Refining Toner Serum, an alcohol-free toner-serum hybrid that brightens, smooths, and fights shine that's dripping into grease territory without stripping skin. The texture is closer to that of an essence, hence why it's called Fat Water ("'cause it's thicc.") You can skip the cotton rounds and slap it right on before wrapping things up with the Hydra Vizor Invisible Moisturizer Broad Spectrum SPF 30 Sunscreen, a daily moisturizer-sunscreen hybrid that's lightweight, oil free, and truly invisible on all skin tones, something Rihanna specializes in. It's also makeup friendly, so there's no pilling or flashback in your #FentyFace selfies.
And there, you did it. You're done.
Fenty Skin already has its first ambassador.
Meet Sean Garrette, skin-care expert, licensed aesthetician, self-ascribed "skin therapist," and quite possibly the dewiest person I've ever seen. Garrette was appointed by Pope Rihanna to educate the masses, using his expertise and content-creating powers while sharing his skin-care journeys along the way. He's already filmed a video that shows the three new products in action, complete with a rare real-life, thorough face-washing.
The products are affordable, refillable, and recyclable.
Rihanna is here for both you and the planet you live on. First and foremost, she believes you deserve "great product" and "great skin," and neither should be inaccessible. To that end, the cleanser, toner, and SPF are $25, $28, and $35, respectively. They'll also be getting into your hands with as few boxes as possible, as Fenty Skin is incorporating postconsumer recycled materials and creating systems in which you buy the vessels you see above once and continually refill them when you hit empty. Rihanna would also like you to know that the SPF is coral reef safe, and the brand will be breaking down how to recycle each product on FentySkin.com.
The products are scented.
Not everyone is fond of fragrance on their faces, so Rihanna is warning you now that she's a fan of scented skin care. "Fragrance in skin care, for me, is so important because it's a crucial part of the experience; it's a huge part of it," she explains in the video. She wants you have a whole transporting moment when patting in your toner, so each product has a different scent tied to its individual ingredients, but she describes the general Fenty Skin fragrance as "warm, clean, and never perfume-y, because that's no bueno when it comes to skin care." Rihanna assures, "We never use more than one percent of a synthetic fragrance," and if they ever do, she will straight up tell you. "You will know, and we won't hide it."
Rihanna knows her shit.
We already knew this. But listening to Rihanna read skin-care ingredients like niacinamide and hyaluronic acid to you, instead of having to sound them out in your own voice in your head, is a nice reminder. She also talks through some of the natural ingredients she chose for Fenty Skin, including Barbados cherry (her personal cold remedy), Kalahari melon, fig, and, of course, quince. Quince? Quince. Enjoy.