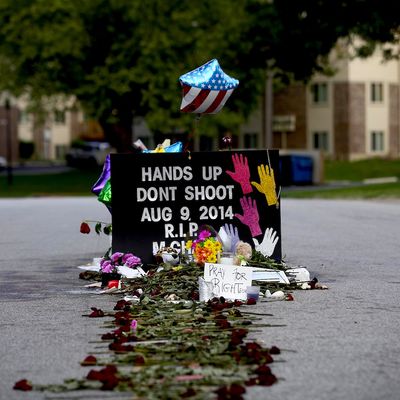 A memorial for Michael Brown in Ferguson, Missouri.
Photo: JOSHUA LOTT/AFP via Getty Images
In August 2014, a white police officer named Darren Wilson killed Michael Brown, a Black teenager, in Ferguson, Missouri. Wilson shot Brown repeatedly; Brown's body was left lying on the pavement for hours after his death. Massive protests ensued, helping turn Black Lives Matter into a global movement. And now — six years after Brown's death, amid sustained, nationwide demonstrations against systemic racism and police brutality — a St. Louis prosecutor has decided that Wilson will not be charged.
"This is one of the most difficult things I've had to do as an elected official," St. Louis County Prosecutor Wesley Bell said on Thursday, according to the St. Louis Post-Dispatch. "Although this case represents one of the most significant moments in St. Louis's history, the question to this office is a simple one: Could we prove beyond a reasonable doubt that when Darren Wilson shot Michael Brown he committed murder or manslaughter under Missouri Law? After an independent and in-depth review of the evidence, we cannot prove that he did."
On August 9, 2014, Wilson confronted Brown for walking down the middle of a residential street. Wilson shot Brown multiple times: According to witnesses, Brown had his hands up before he died, a detail the Department of Justice disputes. Rather than charging Wilson, Bell's predecessor, Robert McCulloch, sent the case to a grand jury in November 2014, which declined to indict the officer. (At the time, Wilson had not yet resigned.) Federal prosecutors also declined to bring civil rights charges Wilson, although a Justice Department investigation into the Ferguson police department turned up an appalling amount of evidence that "racial bias has impermissibly played a role in shaping the actions of police and court officials" in the city.
On the five-year anniversary of his son's death, Michael Brown, Sr., publicly called on Bell, the county's first Black prosecutor, to reconsider the case. Bell had not commented publicly on his intention to do so, and at an August 2019 press conference, Brown Sr. said Bell "needs to do his job." Describing Wilson as "a coward with a badge," Brown, Sr. said his son had been "murdered in cold blood."
"I am demanding evidence to be reanalyzed, and accountability to follow," he added. "As a father, I vowed to protect my children, but on Aug. 9, 2014, that wasn't the case. I could not protect him that day and it breaks my heart. I will stand and fight until the day I die for justice."
Per the Post-Dispatch, Bell "quietly" reopened the investigation roughly five months ago. On Thursday, he said his office kept it under wraps because he "didn't want to create a circus" that might attract "undue or outside pressure to try to push us to one side or another." He also stressed that his decision not to charge Wilson did not clear the former officer's name.
"There are so many points in which Darren Wilson could have handled the situation differently and if he had Michael Brown might still be alive," Bell said. "But that is not the question before us."