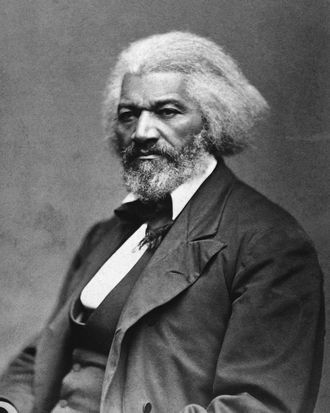 Frederick Douglass.
Photo: Corbis via Getty Images
Across the country, anti-racism protests have seen monuments to white supremacist leaders, slave owners, and colonialist historical figures removed — whether because demonstrators have taken matters into their own hands or the institutions responsible for the statues have cooperated with public demands. The scrubbing of racist symbols from the national landscape has enraged some on the political right, however, the president very much included. For that reason, activists in Rochester, New York, believe "retaliation" might explain why a statue of abolitionist and former enslaved man Frederick Douglass was pulled from its base over the weekend and tossed over a park fence 50 feet away.
The park in question was Maplewood Park, where Kelsey's Landing — a port at the end of the Underground Railroad, from which Douglass helped ferry slaves to Canada — is also located. As the Democrat & Chronicle reports, the act of vandalism coincided with the 168th anniversary of a speech Douglass gave in Rochester on July 5, 1852. Titled "What to the Slave Is the Fourth of July," the address outlines the vastly unequal application of the "life, liberty, and the pursuit of happiness" guarantees made by the Declaration of Independence.
"It's particularly painful that it happened at this time," said Carvin Eison, project director of the Frederick Douglass Bicentennial Commemoration Committee, told the Democrat & Chronicle. Speaking to WROC, Eison called the statue's toppling "beyond disappointing," and wondered: "What comes of this? Is this some type of retaliation because of the national fever over Confederate monuments right now?"
Some on social media have speculated that protesters felled the statue, with Donald Trump blaming "anarchists" for the vandalism as he tweeted a Breitbart link and the White House pointing to "radical left-wing mobs." However, as journalist Wesley Lowery noted, "Black monuments are defaced all the time," and "typically not by lefties." For example: In 2018, a sign commemorating the spot where Emmett Till's body was found in Mississippi had to be encased in bulletproof glass after a string of replacements for the original were repeatedly shot, stolen, and otherwise destroyed. The site is known to have been targeted by white-supremacist groups.
Rochester police have made no arrests but told the Associated Press that the statue was ripped from its pedestal on Sunday. It was tipped over the park fence, "at the brink of the Genesee River gorge," per the AP. Eison told the Democrat & Chronicle that the damage to the statue's finger and to its base looked too severe to fix and that the whole thing would need to be replaced.
In 2018, Eison helped spearhead the building of 13 monuments to Douglass, who lived in Rochester for decades. In December of that year, two college students were charged with vandalism and criminal mischief for taking the statue down. Once again, Eison now plans for the timely reconstruction of the Maplewood Park figure, telling WROC the goal is to "put a monument back here immediately so who ever did this know that we are not going to be deterred from what our objective is" — "to continually celebrate Frederick Douglass."
"They can topple over this monument, they could go topple over all of them," he added. "This monument will still stand because the ideas behind it are bigger than the monument."