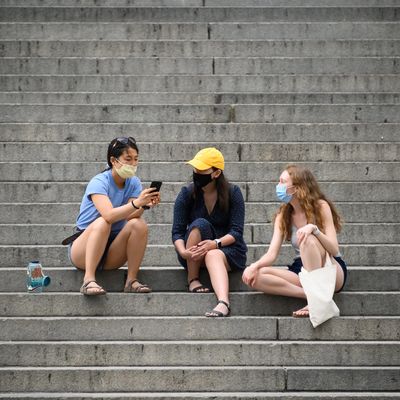 Photo: Noam Galai/Getty Images
The first time Tamara had someone over to her Brooklyn apartment since she had been in quarantine, she figured they would be cautious. Instead, she was slightly shocked to see her friend linger inside without a mask, touch the doorknob and fridge handle, and open a bottle of tequila without sanitizing her hands multiple times. Tamara didn't say anything on that night in early June — who wants to sound like a scoldy mall cop when you're hanging out? — but she decided that in the future, she needed to have a few ground rules in place.
Now, before anyone has a drink on her terrace, she texts them the following instructions: wear a mask inside, leave your stuff outside, BYOB, wipe down the bathroom with Lysol, and don't open the fridge or terrace door (she does that for you).
"I'm very direct — these are my hard-and-fast rules," said Tamara, a 29-year-old events manager who didn't want her last name used to protect her privacy. "It's a yes or a no — do you accept these terms and conditions?"
Hanging out during the coronavirus is fraught. Our quaint, pre-pandemic social anxieties like "Will I say something stupid?" have been replaced by "Will I pass on or catch a virus that has killed more than 130,000 Americans?" and "Where do my friends fall on the COVID-19 scale of frat bro on a packed Florida beach to New York shut-in?" And even the most well-intentioned people — who know that wearing masks, staying outside, and keeping a distance are the best way to stop the spread — slip up when they're around best friends or five wines deep.
As a solution, more and more people are having versions of the awkward "COVID Talk" before they make plans. It's the viral equivalent of discussing consent before sex, with the hope that by establishing firm boundaries ahead of time, friends will be less likely to swaddle you in a hug or let their mask become a chin strap. This kind of conversation has become necessary, if not lifesaving, at a time when the virus is still raging and isolation has frayed everyone's mental health. But it can also be uncomfortable at first and, depending on your friends' and family's attitudes, yield mixed results.
When Jordan Verroi arrived at his aunt and uncle's house in Florida for the July 4 weekend, he tried to talk about precautions before going inside. Since the 31-year-old had flown in from New York a week earlier, he wanted to immediately shower and wear a mask inside to be safe. But his family said he was overreacting and thought it was ridiculous when he offered them an elbow bump instead of a hug. When he declined to hold hands during dinner prayer — a hard thing to do for a self-described "good Christian southern boy" from Atlanta — they laughed, and when he asked if they could do takeout instead of eating at a packed restaurant for dinner one night, they said no.
"I felt like I was in the Twilight Zone," said the founder of a tech startup, who added that he has friends whose parents have died from the virus. "I was saying 'Do you guys not realize what's going on?'" But his dad, who is in his late-50s and was diagnosed with prostate cancer, said he would rather live in the moment than strictly follow any COVID-19-related rules.
While Verroi says convincing his family to take more precautions in their own house would have been hard, it would have been easier had they started the conversation before he showed up on their doorstep. But either way, creating COVID-19-related boundaries with friends and relatives is a challenge.
The very definition of intimacy involves letting your guard down, and putting it up is even more difficult when the threat is invisible — something easily ignored when you're grilling sausages in a backyard. "You're setting up a kind of artificial boundary that wasn't there before," said Dr. Shane Owens, a New York-based behavioral psychologist who also runs a counseling center at Farmingdale State College. "We're basically having conversations that are the equivalent of 'Don't touch me.' It's really alienating and off-putting."
Owens says that though it's uncomfortable, setting guidelines before hanging out is a necessity, since social isolation can lead to depression, heart disease and premature death. And as I recently learned after being unexpectedly swaddled in hugs by friends at a park and proceeding to quietly panic for the rest of the night, it's much easier to level-set beforehand than feel like a killjoy in the moment.
When Vanessa Valiente asks anyone to hang out, she makes her rules very clear. The 38-year-old personal stylist invites them to a "social-distance hangout" in a San Diego park and tells them to bring their own chairs and booze. She sends them a reminder the day before and tries to be funny and upbeat while laying out her terms — Can't wait to see you! I'll bring a tape measure! — a trick she regularly uses to deescalate tense situations with her clients. Except the tape measure thing isn't a joke. In the early days of COVID-19, she'd bring one to the park to show the cops she was following the rules. But now she sets it up so there's no debate among her friends about what constitutes six feet.
Valiente has to be extra-cautious about social distancing since she visits the homes of high-risk clients, but the gag also makes her friends laugh instead of putting them on the defensive. "People generally don't like confrontation," she said. "I say, 'Isn't it great?' and no one wants to say, 'It's not great.'"
Depending on how many people you're hanging out with, "the talk" could require more than a few text messages. For Anne Shoemaker, the process involved a group of 11 people and roughly four hours of conversation. She and a committee from her church in North Carolina were trying to figure out how to host a group of visitors last month, in the middle of a pandemic, which involved giving people rides and eating together. They agreed on a list of roughly ten rules, ranging from mandatory masks in cars to desserts in disposable containers, that made everyone comfortable.
Their approach was to ask questions like "How do you feel about gathering with a group of ten?" and to defer to the most cautious person in the group — if someone wasn't comfortable with handshakes, no one would shake hands.
But not every situation, or group member, is so collaborative. It's a particular challenge for parents to have "the talk" with their kids, who find the concept of social distancing a lot less compelling than piling on top of their friends at the playground. One mother told me over email that she always has a call with family and friends before they hang out with her 3-year-old to talk guidelines. One of her rules is that if her son tries to hug them, they should step back and let her explain why touching is a no-no.
Owens, the behavioral psychologist, uses a more disciplinary approach with his kids, who are 8 and 4. His version of "the talk" is frank: Masks are important to stop the spread, and if you take them off at a friend's house, the party's over. And he's followed through on the threat. Owens asked his family to leave a recent outdoor gathering early when he noticed both the children's and adults' masks had started to slip, and cut a barbecue at his own house short when he discovered his kids and their friend playing "almost shoulder to shoulder," without their masks on. His daughter was angry and cried, and Owens's steadfast adherence to the rules have also created tension with his wife. But he's accepted his role as the bad guy in his family, since he can't control his larger social network's behavior.
"Nobody wants to be seen as the downer or rule enforcer," he said, "But I'll choose hurt feelings over illness almost all the time."