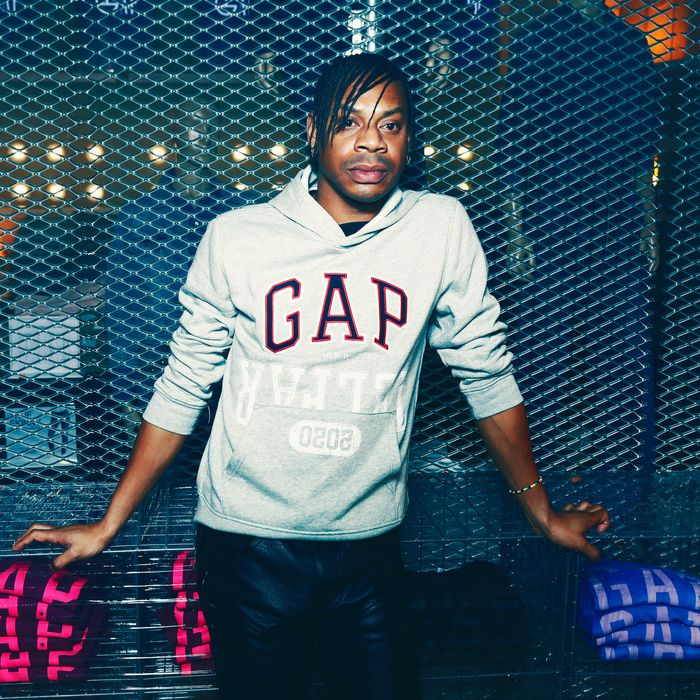 Photo: Julien M. Hekimian/Getty Images for GAP
Last week, when the Gap announced a whopping ten-year partnership deal with Kanye West, many were prompted to ask: What happened to the Gap's collaboration with Telfar?
The collaboration between the American chain and the New York–based fashion brand was first announced in January with a buzzy party at a Gap store in Paris. Kate Moss was there. Designer Telfar Clemens, who founded his namesake label in 2004 and put forth the democratic motto, "It's not for you — it's for everyone," was photographed wearing a hoodie that combined the Gap logo and his own. The drop was expected for sometime later this year, with an agreement reportedly reached for two seasons.
And then the pandemic hit. The Gap, Inc., canceled orders, closed thousands of stores, and furloughed thousands more employees. In early April, Business of Fashion reported that the Telfar x Gap collaboration had been "indefinitely postponed."
Last week, a Telfar representative told the Cut that the brand was offered a postponement fee in March for the work it had done, which included 30 designs, that amounted to 25 percent of the original design fee. Telfar then sent an invoice, but as of Friday, June 26 (when the Yeezy Gap collaboration was announced), payment had yet to materialize. Telfar had also not yet heard from the Gap, despite multiple follow-up emails.
When these details were made public last week, they provoked outrage on social media. The Gap then "took immediate steps to resolve this matter," a spokesperson told the Times on Wednesday. Telfar has since been paid a postponement fee, and the Gap has now agreed to pay the original fee in full, with a spokesperson adding that "an organizational shift in the brand during an unprecedented period" was to blame for the drop in communication. "Simply put this is not at all how we would expect a partnership to be handled and apologize for how this panned out," a statement from the Gap read. (The Gap also claims that the Yeezy Gap partnership and the Telfar collab were handled by "wholly separate" teams.)
In an interview with the Times, Clemens expressed discomfort with the way the social-media narrative had pitted Telfar against Kanye, and said he was happy for West and Yeezy Gap's new design director, Mowalola Ogunlesi, and loved both their work. He especially took issue with the perception that Telfar was a victim in the situation, saying that it distracted from the real issues at stake: the way that collaborations between independent designers — and in particular designers of color — and big corporations represent "a vast power imbalance, perpetuated by the narrative of 'inclusivity,'" or "being allowed to appear in territory owned by white people."
"We grew up looking at the edifice of the mall and wanting to be part of it, to have power there," added Telfar creative director Babak Radboy. "Now we have realized we shouldn't. It has been part of our survival to become content for a bigger brand so they can make a statement about their racial solidarity. But the real problem is the initial situation that blocks a designer's progress so they need to say 'yes' to such a thing."
Independently, Telfar has a strong online, direct-to-consumer business. Its signature bags remain extremely popular, with a recent restock selling out within an hour, according to the Times. As for the fate of the Gap collaboration, Clemens said he was "really glad to be free of it."