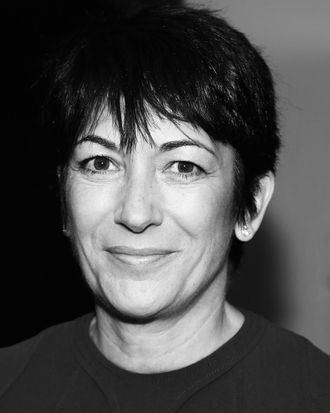 Photo: Sylvain Gaboury/Patrick McMullan via Getty Images
British socialite and former Jeffrey Epstein associate Ghislaine Maxwell has finally been found and arrested, according to multiple sources. Maxwell, who has been accused of being Epstein's longtime accomplice in trafficking and abusing dozens of young girls in a sophisticated sex ring over many years, was reportedly arrested by the FBI this morning in New Hampshire on Epstein-related charges, and will appear in a federal court later today. Investigators had been searching for her for almost a year, since Epstein hanged himself in prison in August of 2019 while awaiting trial for criminal charges.
According to the federal indictment, Ghislaine has been charged with six counts, including enticing minors to travel to engage in illegal sex acts, transportation of a minor with intent to engage in sexual activity, two conspiracy counts related to those charges and two counts of perjury. "In particular," it reads, "from at least in or about 1994, up to and including at least in or about 1997, Maxwell assisted, facilitated , and contributed to Jeffrey Epstein's abuse of minor girls by among other things, helping Epstein to recruit, groom, and ultimately abuse victims known to Maxwell and Epstein to be under the age of 18. The victims were as young as 14 years old they were groomed and abused by Maxwell and Epstein, both of whom knew that certain victims were in fact under the age of 18."
Maxwell, the daughter of media baron Robert Maxwell, arrived in the United States in the 1990s where she became a fixture of the social scene in New York and met Epstein. The two were once romantically involved, but after that remained close friends, often seen together for the years that Epstein travelled in elite social and financial circles. Multiple women who say they were abused by Epstein also claim Maxwell participated in their sexual assault, as well as helped arrange their encounters with Epstein, and intimidated them into cooperation.
One of Epstein's accusers, Maria Farmer, remembers Maxwell telling her to "be careful and watch your back," after she gave an interview to Vanity Fair — which never ran — in which she alleged horrific treatment at the hands of Epstein and Maxwell. Virginia Roberts Giuffre, who sued Maxwell for defamation in 2015, says Maxwell is the one who recruited her as a teenager outside Mar-a-Lago in Florida to work as a massage therapist for Epstein. In unsealed documents from the lawsuit, Giuffre describes how her "whole life revolved around just pleasing these men and keeping Ghislaine and Jeffrey happy." Asked if it is "your contention that Ghislaine Maxwell had sex with underage girls virtually every day when [you were] around her," Giuffre replied, "Yes."
Maxwell had not been seen frequently in public since 2016, when she sold her home in New York. At the time of Epstein's arrest last year, her whereabouts were unknown, and though she was not immediately charged along with him, Attorney General William Barr announced that any of Epstein's "co-conspirators" should not rest easy. After Epstein's death from apparent suicide, focus turned more intensely to Maxwell. But she continued to evade discovery (including by possibly photoshopping herself into a photo of a fast food restaurant in Los Angeles, until now.
In a press conference on Thursday, the FBI Assistant Director William F. Sweeney Jr. called Maxwell a "villain" in the Epstein case and said that she had "slithered away" to a "gorgeous property in New Hampshire," before being taken in "without incident." "We moved when we were ready," he said of the timing of Maxwell's arrest. Audrey Strauss, acting US Attorney in the case, also mentioned Prince Andrew, whose testimony has been formally requested by investigators. Giuffre has accused the prince of having sex with her in 2001, when she was 17, facilitated by Epstein. "We would welcome Prince Andrew coming in to talk to us," Strauss said.
This post has been updated with more information.