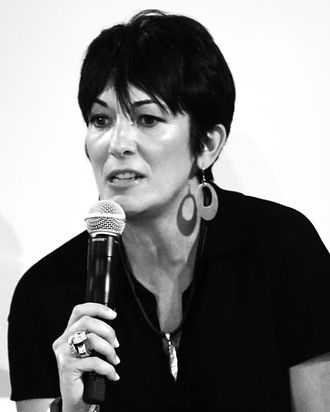 Ghislaine Maxwell.
Photo: Paul Zimmerman/WireImage
Ghislaine Maxwell, a longtime associate of the billionaire sex offender Jeffrey Epstein, will remain in jail until her trial, tentatively set for July 2021, a federal judge ruled today. Maxwell has been accused of soliciting and grooming girls for predation by Epstein, her former boyfriend and longtime employer, and of lying about it under oath. Following a federal indictment, on July 2, FBI agents arrested Maxwell in a remote part of small-town New Hampshire at the million-dollar mansion where she had been sheltering, allusively known as "Tuckedaway."
On Tuesday, she was instead at the Metropolitan Detention Center in Sunset Park, Brooklyn, appearing before Judge Alison J. Nathan via video stream due to the ongoing COVID-19 pandemic; she pleaded, quietly, in a subdued British accent, not guilty to the charges against her. Her attorneys and the U.S. attorneys representing the government had videos of their own, while a phone line for the media and the public to listen to the proceedings filled up its initial 500 spots and had to be expanded to 1,000. Such is the public interest in Maxwell's case, which has seized on her as the readiest proxy for Epstein himself, who committed suicide in federal detention while awaiting trial last year.
That interest — rabid, tabloid, understandable — came up again and again in Tuesday's arraignment and bail hearing, as the defense counsel, Mark Cohen, hammered at the idea that Maxwell had been hiding, if she had been hiding at all, not from prosecutors but from the hungry press. The hearing hinged on the question of whether Maxwell was a flight risk; the government did not contend that she represented a present danger to the community. Her attorneys argued that, like all defendants, she must be presumed innocent and that bail conditions could be set to assure her presence at trial. They suggested a $5 million bond secured by an unnamed group of "six financially responsible people, all of whom have strong ties to Ms. Maxwell" and by a multimillion-dollar property in the United Kingdom, the surrender of travel documents, and the imposition of travel restrictions and GPS monitoring. (The lawyers' memorandum suggested "home confinement in a residence in the Southern District of New York" — at the hearing, it was a luxury hotel in Manhattan.)
Despite back-and-forth filings from the government and the defense debating Maxwell's resources — huge and nebulous in the eyes of the government, less so in the contention of the defense — Judge Nathan ruled the court was persuaded to conclude that "even the most restrictive of conditions would be insufficient" to guarantee Maxwell's presence. "It is practically impossible to set financial bail conditions that could reasonably assure her appearance in court," the judge said. "Even if the picture of her financial resources were not opaque, as it is, detention would still be appropriate."
In the arguments for detention, Assistant U.S. Attorney Alison Moe described Maxwell as a woman of mysterious but seemingly inexhaustible means, international connections, multiple foreign bank accounts, and three passports (she is a citizen of the U.S., the U.K., and France, the last of which will not extradite its citizens to the U.S.). Moe returned often to Maxwell's alleged obfuscations and omissions with the assessors of Pre-Trial Services — including the identity of a spouse she "declined to provide" — and argued that her risk of flight is extreme. Its reasoning drew not only on Maxwell's connections and resources but also on her ability and willingness to hide in the year since Epstein was indicted — though, as her attorneys noted, she did not leave the country — and made reference to the kind of incognito high jinks likelier found in caper comedies. According to Moe, an FBI agent investigating the New Hampshire home found a Realtor who recalled showing the property to an English journalist named Jen Marshall: a disguised Ghislaine. A cell phone was found wrapped in tinfoil on the property, the government alleges, a crude attempt to avoid detection. "Spin, spin, spin," Cohen said of the government's efforts, caricaturing its strategy as "throw some dirt on the client and then we're done. That's not the legal standard, your honor." In making the case for Maxwell's release on bail, he argued for her right to the presumption of innocence, noted that "our client is not Epstein," and said that to prepare a robust defense and protect Maxwell from COVID-19 behind bars, appropriate bail conditions should and could be arrived at. He cited the precedents of other high-profile, often high-net-worth figures whom the court had released with conditions: Bernie Madoff, alleged Genovese Family crime boss Vincent Esposito, money launderer Marc Dreier. He did not cite the precedent of United States v. Epstein from the previous year, as Moe pointed out, when Epstein was charged with sexually exploiting and abusing "dozens of minor girls." Epstein's requests for bail had likewise been denied.
The government also gave voice to two alleged victims during the hearing: one, an anonymous Jane Doe, who submitted a statement in writing, and a second, Annie Farmer, who spoke. "I met Ghislaine Maxwell when I was 16 years old. She was a sexual predator who groomed and abused me and countless other children and young women," Farmer told the court. "We may never know how many people were victimized by Ghislaine Maxwell, but those of us who survived implore the court to detain her until she is forced to stand trial and answer for her crimes." Cohen noted that the Crime Victims Rights Act, by which Jane Doe and Farmer were allowed to speak, accords victims "a voice but not a veto."
Is Maxwell a "villain," as FBI Assistant Director in Charge William F. Sweeney Jr. said in a press conference announcing her indictment and arrest on July 2, or, as the defense will likely argue, a woman unfairly hounded for a long-ago connection to a notorious sex offender? (The defense characterized Maxwell as a family woman who is "extremely close" to her six siblings and her nephews and nieces and is "a godmother to many.") That will be the work of a trial, and Judge Nathan made clear that her decision on detention or bail did not seek to prejudge the strength of the government's case. But ultimately, "the risks are simply too great" to grant bail, she ruled. Maxwell was ordered detained until her trial. It is set to begin, according to an agreed-upon schedule, on July 12, 2021.