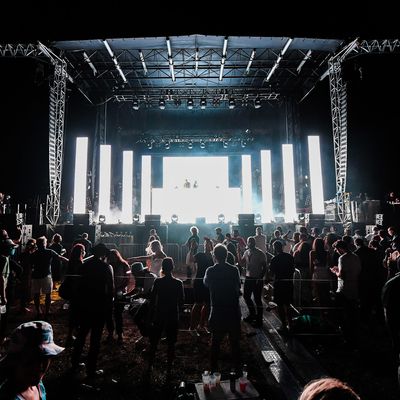 Photo: Kevin Mazur/Getty Images for Safe & Sound
Andrew Cuomo and the New York State health commissioner are furious at the town of Southhampton, and I cannot blame them: Over the weekend, in a pandemic, it seems to have hosted a giant "drive-in" concert attended by 2,000 people, and headlined by EDM duo the Chainsmokers. While the organizers claim attendees were socially distanced, they certainly don't look that way in videos from the event, which have again made our governor extremely mad:
And now the state health department is officially investigating it:
All summer, as the coronavirus crisis has claimed hundreds of thousands of American lives, we have been presented with a plethora of outrageous examples of gatherings and social events our fellow countrymen are willing to put themselves and others at risk for: parties at man-made lakes; Trump rallies; trips to Disney World; sports.
But somehow the Hamptons event takes the cake, in terms of being a turducken of truly awful nesting circumstances. The concert, from which all proceeds went to charity, was sponsored by something called "JAJA tequila," a company owned by notorious Fyre Festival marketers FuckJerry and the Chainsmokers themselves. And before guests even got to see the Chainsmokers, they were treated to a set by Goldman Sachs CEO and DJ David Solomon, a.k.a. D-Sol. One profile of Solomon says he is a classic-rock DJ; another says he is an EDM DJ. These are, I would venture, the two very worst kind of DJs one can be. And Solomon insists on being one of these kinds of DJs despite making more than $15 million a year.
Here he is "spinning" with two men who appear to be in his demographic:
Concertgoers told BuzzFeed that they felt safe at the open-air event. Attendees were allegedly subject to temperature checks before entering, and told they could not leave their designated area unless to use the bathroom. But none of these protocols reckon with the choice to host a giant Chainsmokers concert during a world-historical pandemic, at all. The Chainsmokers will be there after it is safe to leave our homes. Unless they possibly contract coronavirus at a giant concert.
To quote the New York State health commissioner, we are very disturbed.