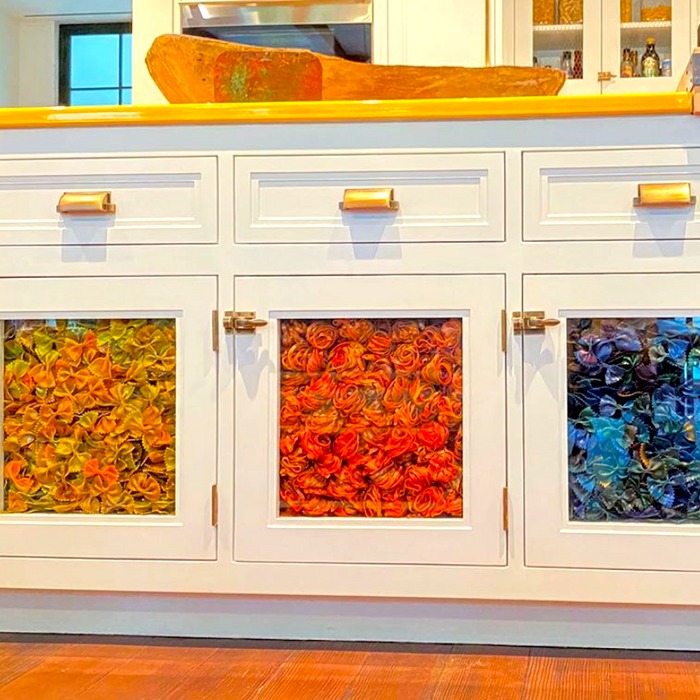 Where isn't the pasta.
Photo: @gigihadid/Instagram
Sometimes, celebrities are kind enough to grant us a peek inside their homes, and rarely do they disappoint. Drake's house? He lives inside a luxury mall, who would have guessed. Kim Kardashian and Kanye West's home? A very haunted mansion, done up all in shades of ghost. Gigi Hadid's apartment? Pleasingly enough, it's all pasta everything … well, not everything! There are also, we learned over the weekend, large decorative bowls filled with pool balls; a super-size pen standing sentinel outside the toilet; rooms papered in old New Yorker covers — a real decorative grab-bag from an unexpectedly kooky mind.
On Saturday, the supermodel posted a slideshow to Instagram, depicting the results of a yearlong design project she recently completed in her Manhattan apartment, now her "dream spot." Hadid has spent most of quarantine, and her simultaneous pregnancy, at her family's Pennsylvania farm, but said she is eager to to start "enjoying all the special corners" in her freshly made-over home. And there are many special corners to enjoy — see: old car parts repurposed as wall art — but arguably the most attention-grabbing detail is the kitchen cabinetry, made from brightly dyed, dry pasta.
Here we have chartreuse penne, and bow-ties in striking yellows and indigos, and those small noodle nests — the pasta I believe Robert Pattinson was trying to describe in explaining his "little pillow" creations — in distinctive fire colors. Behind pasta island, we see another cabinet, also filled with pasta, but pasta that has been neatly organized in glass containers according to shape. Those pastas seem intended for everyday consumption, whereas the pasta facades (I think we must assume) may disguise a cacophony of loose noods, waiting to deluge visitors opening random drawers while looking for the trash. It would be an unusual design choice, to build a booby trap into your kitchen, but me personally? I approve.