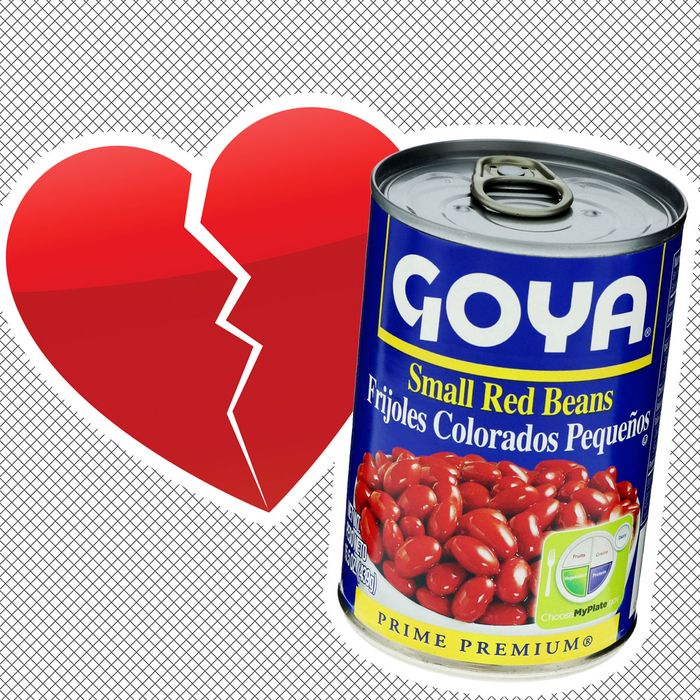 Photo: Goya, Getty Images
After experiencing a tremendous surge in popularity during lockdown, declared by the Cut as a "boom time for beans," beans now face a devastating setback: Goya, notorious and beloved grocery store bean purveyor, creator of finely crafted legumes that you don't have to be on a waiting list for, is now the subject of a boycott after the company's CEO lavished praise upon President Trump.
People are posting with the hashtag #goyaway because Robert Unanue, the CEO of Goya Foods, appeared in the Rose Garden of the White House yesterday for a press conference with Trump, in which he heaped praise on the president like one might season a hearty bowl of Goya rice and beans.
"We are all truly blessed … to have a leader like President Trump who is a builder," Unanue said. "We have an incredible builder, and we pray. We pray for our leadership, our president." He was there to help announce Trump's latest executive order called the "Hispanic Prosperity Initiative."
The uproar is tied to Trump's notoriously xenophobic and derogatory treatment of Hispanic Americans, Puerto Ricans, and Central Americans — Goya is headquartered in New Jersey, with locations in the Dominican Republic and Puerto Rico. Trump has centered his presidency around the promise to build a giant border wall between the United States and Mexico, to keep out migrants from the south, who he has demonized as "rapists" and drug dealers.
In a tweet, former Democratic presidential candidate Julian Castro said Goya is "a staple of so many Latino households for generations," and yet its CEO was "praising a president who villainizes and maliciously attacks Latinos for political gain." He supported the boycott, as did Representative Alexandria Ocasio-Cortez, who quickly crowdsourced a recipe for homemade adobo.
I had eaten some simple and delicious tacos stuffed with Goya black beans and Goya pickled jalapeños just a few moments before learning of Unanue's comments, an experience no doubt shared by many bean lovers who must now face their cupboards full of Goya products. This betrayal is a hard, hard bean to swallow.