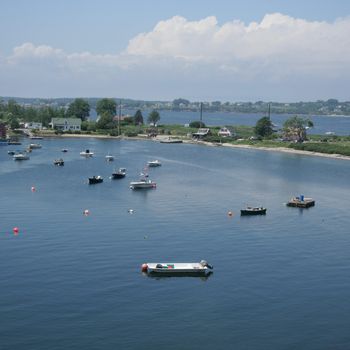 Mackerel Cove
Photo: Paul VanDerWerf
A woman who was attacked by a great white shark while swimming in Maine has died, the Sun Journal reports.
On Monday, 63-year-old Julie Dimperio Holowach was about 20 yards offshore of Bailey Island when the attack occurred. "You could hear her giggling and laughing," one of Holowach's neighbors who saw the incident told the Sun Journal. "All of a sudden Julie just started screaming for help." Holowach's daughter, who was swimming about 15 feet away from her mother, rushed back to shore, where she also cried out for help. While alarmed kayakers retrieved Holowach, her injuries were extensive, and on the shore, first responders pronounced her dead. There, a scientist recovered a tooth fragment, confirming that the animal that attacked Holowach was indeed a great white shark.
The attack — which is Maine's first known fatal shark attack — has shaken locals and officials in the surrounding area. Holowach, a New York City–based fashion-industry executive who had recently retired, spent summer months with her family on Bailey Island, where they owned property. The only other recorded report of an unprovoked shark attacking a human in Maine waters was in 2010, when a porbeagle approached a scuba diver in Eastport. The diver did not suffer any injuries.
As experts have tried to make sense of the incident, many have pointed to the fact that Holowach was wearing a wet suit, leading them to suspect that the shark may have mistaken her for a seal. In recent years, the seal population in New England has thrived under federal conservation efforts. "Because of that increase in seals in New England, then you have of course more white sharks patrolling the area," Gavin Naylor, program director for the International Shark Attack File, told the New York Times. "And I wouldn't be all that surprised if they go up to Maine." The day before the fatal attack, a seal carcass with a 19-inch bite wound was found on a beach in the nearby coastal town of Phippsburg.