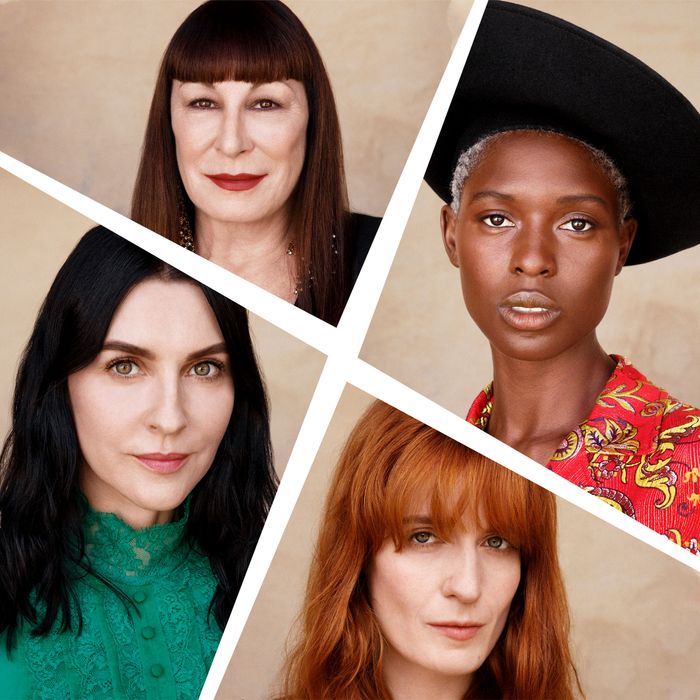 Susie Cave, Anjelica Huston, Jodie Turner-Smith, and Florence Welch.
Photo: Courtesy of Gucci
Earlier this week, four talking flowers appeared on Gucci Beauty's Instagram account. According to the captions, each poetry-reciting blossom represents a character from the upcoming campaign for Gucci Bloom, the first Gucci fragrance developed wholly under Alessandro Michele's vision. Thankfully, we now know the identities of the humans behind each pair of haunting flower lips.
Gucci Bloom's four new fragrance ambassadors are director and actress Anjelica Huston (this flower), singer-songwriter Florence Welch (this flower), actress and model Jodie Turner-Smith (this flower), and designer Susie Cave (this flower). According to a release, the quartet will make their Bloom debut together in a new campaign that was envisioned by Michele, directed by photographer and director Floria Sigismondi, and shot at La Scarzuola, which the brand describes as a "mystical landmark" in the Umbrian countryside of Italy.
No word on whether the chatty flowers will return, but the campaign promises to "blur the lines between two universes, revealing the true heart of Gucci Bloom with an exploration of imagination and identity," so they very well may. More will be revealed in the coming weeks, but for now, enjoy a sneak peek of Welch and her bangs looking as mystical as ever.