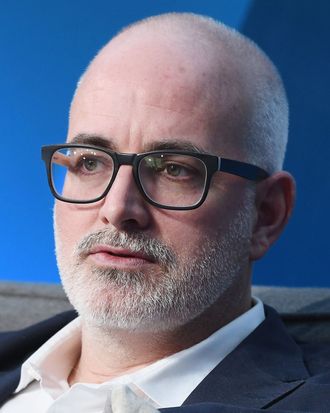 Troy Young.
Photo: Roy Rochlin/Getty Images
On Wednesday, the New York Times reported allegations that Hearst Magazines president Troy Young has made several sexist and inappropriate comments around his colleagues during his time at the company. After sending staff a letter apologizing for behavior he described as "particularly offensive to women," Young stepped down on Thursday.
"Dear Colleagues," an internal memo from Steven R. Swartz, Hearst's president and chief executive officer, read. "Troy Young and I have agreed that it is in the best interests of all of us that he resign his position as president of Hearst Magazines, effective immediately."
Young was promoted to president in 2018 and first came onboard in 2013 as the head of Hearst's digital-media operations. According to the Times report, he created a toxic environment at the company and sexually harassed some of its workers. In one particularly egregious instance, at a Cosmopolitan holiday party in 2013, Young reportedly joined a group conversation in which a young staffer was recalling a bad date she'd been on with a man who complained about his ex's body odor. The anonymous woman says Young told her "she should have inserted her fingers into herself and asked her date if he liked her smell," according to the Times. Two Esquire staffers — both of whom spoke to the Times on the record — say they recalled hearing Young say this.
In a statement to the Times, Young defended his behavior at the party, saying, "Candid conversations about sex defined the Cosmo brand for decades, and those who worked there discussed it openly."
In another instance, according to two sources, during a visit to the offices of Cosmopolitan, Young picked up a sex toy that had been sent to the magazine and asked if he could keep it. Referring to a hole in the toy, which the Times did not describe in detail, he then commented that he would "definitely need the bigger one."
Young also allegedly emailed pornography to Hearst editor Jay Fielden — a story confirmed by three sources. Fielden relayed the incident to David Carey, the division president at the time. Fielden, who declined to comment on the allegations to the Times, left his job at Hearst, as editor-in-chief of Esquire, last year.
Other than the holiday-party story, Young did not respond to specific allegations. In a statement to the Times, he said, "Specific allegations raised by my detractors are either untrue, greatly exaggerated or taken out of context. The pace of evolving our business and the strength of my commitment is ambitious, and I sincerely regret the toll it has taken on some in our organization."
A spokesperson for Hearst Magazines told the Times that Young's "relentless pursuit of excellence was at times combined with a brash demeanor that rubbed some the wrong way" and that, "since being named president of the division, he has worked to develop a more inclusive management style."
The day after the Times story came out, however, Young released a longer statement to staffers. "I am deeply reflective on what I can learn from this moment," he wrote. "My realization is this: Work is so personal for me. I always bring my full self — for better or worse — balancing being both compassionate, and being both real and professional. In doing so, I have lacked awareness that, in my role, is critical. The words I say can have an outsized impact. Impact that does not match my intent."
"I recognize that the incidents cited in the NYT article are particularly offensive to women and I want to make clear they do not represent who I am as a person nor do they reflect some of the most important relationships in my life," the note continued. "I am sorry and I am committed to doing the work I need to do here."
This article has been updated.