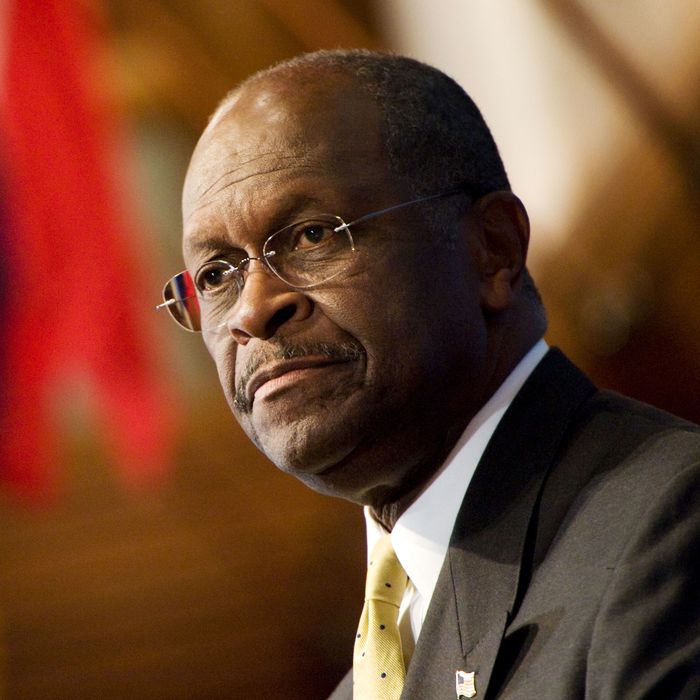 Photo: The Washington Post via Getty Images
Business executive and former Republican presidential candidate Herman Cain has died from the coronavirus after being hospitalized earlier this month. He was 74.
His website and social-media accounts announced Cain's passing on Thursday. Dan Calabrese, who manages the website and has previously written about Cain's illness, wrote in a blog post, "Herman Cain — our boss, our friend, like a father to so many of us — has passed away." Calabrese wrote that when Cain was first taken to the hospital in an ambulance on July 1, he had trouble breathing and "it became clear pretty quickly that he was in for a battle." The blog post also reminds us that Cain is a stage-four colon-cancer survivor, placing him in an additional risk group for suffering the worst outcomes of COVID-19.
Once the CEO of Godfather's Pizza, Cain made a name for himself as a political figure when he ran as a Republican presidential candidate in 2012. A vocal supporter of President Trump, Cain was reportedly considered as a nominee for the Federal Reserve Board last year.
Less than two weeks before Cain received his diagnosis, he attended a Trump rally in Tulsa on June 20. The rally took place at an indoor arena, where, according to reports, the majority of attendees did not wear masks and stood close together shouting — all behaviors that are known to stoke the spread of the virus. Hours before the event took place, at least six staffers who helped organize the trip tested positive for COVID-19.
Like many Republican politicians, including the president, Cain has recently espoused the dangerous view that wearing masks at public gatherings to slow the spread of the coronavirus should not be mandatory. Cain tweeted a picture of himself at the rally surrounded by people who appeared not to be wearing masks. Twelve days later, he was admitted to a hospital in Atlanta after being diagnosed with the virus.
On July 2, the Trump campaign wrote of Cain's diagnosis, "There is no way of knowing for sure how or where Mr. Cain contracted the coronavirus."