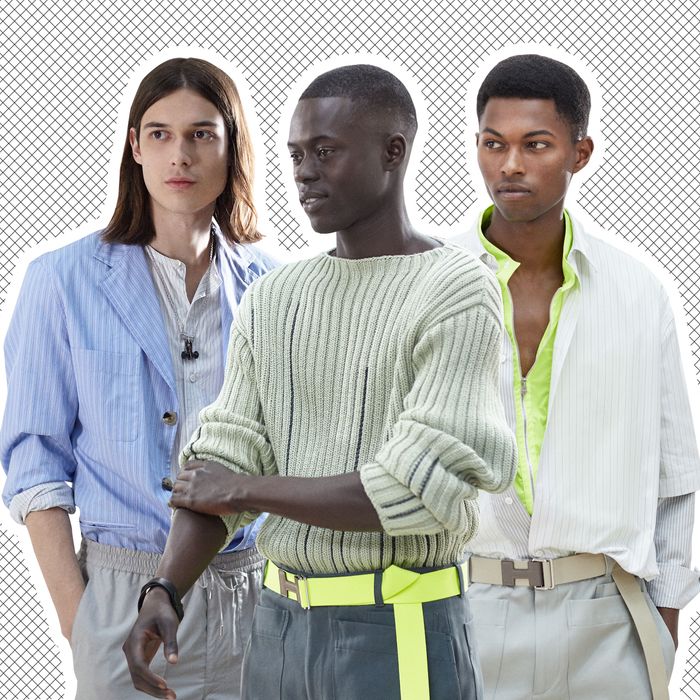 Photo: Courtesy of Hermes
The question of what fashion will do without the spectacle of live shows has been haunting the industry since March, when brands, factories, and retail stores shut their doors. With the COVID crisis still growing (albeit unevenly around the globe), designers have to decide for themselves how best to present their new collections when most clients and buyers cannot see them in person. For the most part, this issue has been solved by existing digital tools. Look books, virtual try-on software, and long-standing relationships have allowed the commercial side of fashion presentations to continue in some way.
But fashion houses don't put on runway shows in order to convince people to buy the clothes going down the runway. Many of the garments will never be mass-produced, and the extravagant cost of putting together a marquee show far outweighs whatever immediate sales the clothes might generate. Instead, runway shows are exercises in branding — physical, real-time manifestations of the glamour all luxury brands wish to project. It's common knowledge within the fashion industry that this glamour shines back on accessories, perfumes, and all the other entry-level high-margin items that make up the bulk of a luxury house's sales. The runway show is marketing.
So how to create an exclusive spectacle that conveys what a brand is trying to say about its latest collection—without endangering the people there to see it, or the models, designers, and crew putting it on? For its men's spring-summer 2021 collection, Hermès may have found the answer.
In a multi-camera live video that blends runway and backstage, talent and crew, Hermès designer Véronique Nichanian has created an experience that is beautiful, conceptual, and, most important, vital. This is a triumph when compared with the many prerecorded shows that have been circulating online, which feel more like commercials than genuine experiences.
The success of the show starts with the quality and craftsmanship of Hermès, a brand that, because of its emphasis on detail and construction, has never actually looked as good on the runway as it does up close. The garments themselves — a narrow selection of perfectly draped trousers, shapely fisherman sandals, gauzy layers in muted colors — aren't loud or radical, but they're rendered and styled with enough visual interest. Paper-thin blazers are tucked into drawstring pants; white shirts have collars reminiscent of Harrington jackets; oversize belts come in neon yellow. The innovation is in how they're presented, with a series of cameras following models and crew as they simultaneously prepare for and execute a runway presentation. It's a combination of backstage chaos and scrupulous serenity.
We begin with the camera trained on a lithe youth in a glass elevator, a tech counting down in French to the start of the show. Along with a camera operator, the model descends onto the main floor of an airy, glass atrium. This is the Hermès workshop in Pantin, just outside Paris. The space buzzes with activity while an abundance of flora shimmers in the breeze on the other side of the glass. Like us, they're trapped inside, but making the best of it.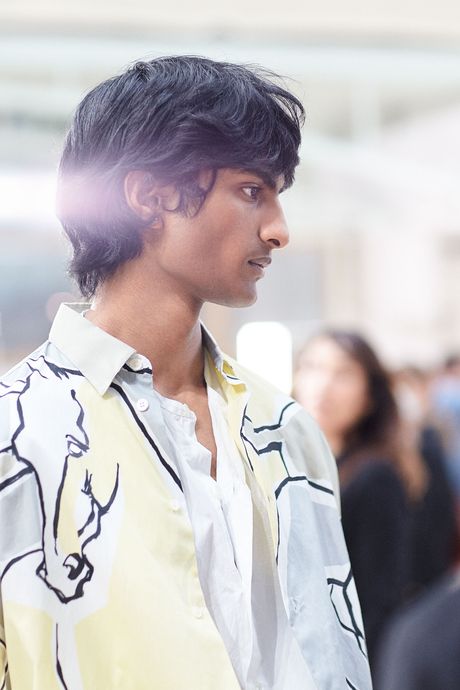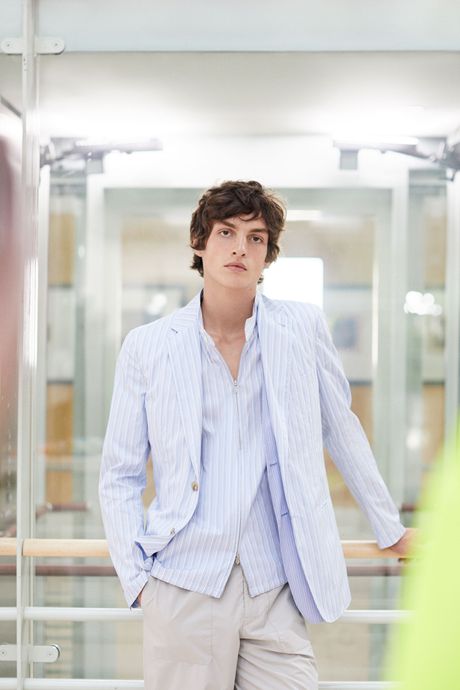 We watch as the model and camera navigate the space, stopping for adjustments, following new characters in long, roving takes, and occasionally cutting (at the direction of offscreen voices) from one camera to another to change perspective. Models alternate between posing and off-duty moments, taking selfies and asking about call time. When we approach one young man wearing headphones, the soothing piano and electronic soundtrack is replaced with a fuzzy rock song by Primal Scream. These fluid transitions are interrupted with constant reminders that this experience is staged; mirrors and reflective surfaces reveal the people making the film along with shots that end on banks of monitors, cueing the next sequence.
Produced in collaboration with Cyril Teste, the show's choreography is reminiscent of the work of Lars Jan's Early Morning Opera productions and Jay Scheib's multimedia explorations — part of a recent trend in experimental theater to incorporate camera streams, onstage screens, and other technologies into live shows. In the case of Teste's work with Hermès, the dramatic tension doesn't come from a story being told but from whether or not the show will come off. Watching in real time, even through a monitor, still brings with it that electric "will they, won't they" feeling that I have yet to find in other brands' digital offerings.
It's hard to say whether this kind of thing is replicable; surely the rest of the industry will try to capture this same energy, but they will have to find their own ways of bringing excitement to a live digital viewing. Few will be able to match Hermès in style or sophistication, but then again, that was true of clothes as well.