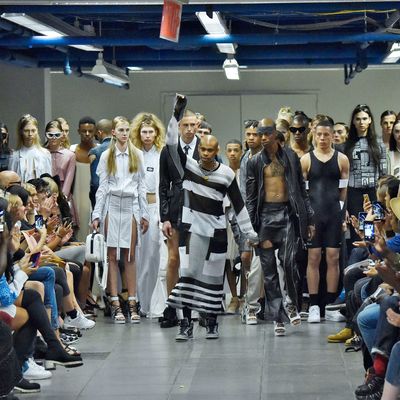 Photo: Victor VIRGILE/Gamma-Rapho via Getty Images
In 2017, a decade after co-founding the groundbreaking fashion brand Hood By Air with Raul López, designer Shayne Oliver announced it would go on an indefinite "hiatus." For Oliver, hiatus is a term of art — he'd used the word earlier in his career to describe a pause in production, or an incubation of sorts. Three years later, the latest hiatus is over. And just in time for an industrywide reset.
As a Monday press release explains, Hood By Air was "ahead of its time" in 2006. In other words, everything fashion brands now do to seem disruptive, Hood By Air had been doing since its beginning — like casting a diverse community of people, some non-models, to walk in shows; pushing the boundaries of sexuality; and challenging the definition of luxury to include T-shirts. And Oliver has done it all genuinely, with an ambitious, genre-defying vision that some more traditional members of the industry failed to understand at the time. "2020 has provided a welcomed and timely opportunity to catch up," the press release adds politely.
Hood By Air's goal was never to fit into a preexisting box, or to find a way to work within a system that didn't support it, but rather to succeed on its own terms — to create its own club and host its own, much better, party. (The team at Telfar also recently expressed a similar desire for independence after its Gap collaboration fell through.) After a brief stint as the designer-in-residence for Helmut Lang in 2017 and a gig for Diesel in a similar capacity, Oliver is ready to focus on building his own house again. He's calling it "the new institution."
"Even now gentrification leaves no physical spaces for new, influential ideas to exist or reside," said Oliver. "So Hood By Air will be a place for these ideas to have a home."
Hood By Air's latest iteration will exist in four parts: Hood By Air, the luxury brand; HBA, the direct-to-consumer platform; and two new concepts, called Museum and Anonymous Club. Museum will be home to the brand's archives, which will be updated and reintroduced through new collections, sometimes by a designer-in-residence. "By leveraging past icons and silhouettes born from young BIPOC creatives, a new future will be informed and developed," the brand explains. Anonymous Club will also work to support and cultivate a range of emerging talent, with the goal of having its members one day collaborate with Hood By Air and HBA. Together they will "co-conspire a more positive world and future."
To coincide with its relaunch, HBA will reveal a limited-edition T-shirt this Thursday as part of Uprising, its new charity initiative. It will also debut an HBA-designed Cash Card in partnership with Cash App. All proceeds from both sales will be split and donated to Black Trans Femmes in the Arts, Emergency Release Fund, and G.L.I.T.S.
A club-like atmosphere is where Hood By Air began, and it has worked for years to preserve that same collective energy and space. The brand's new iteration will ensure that it has a strong, self-generating foundation for years to come.