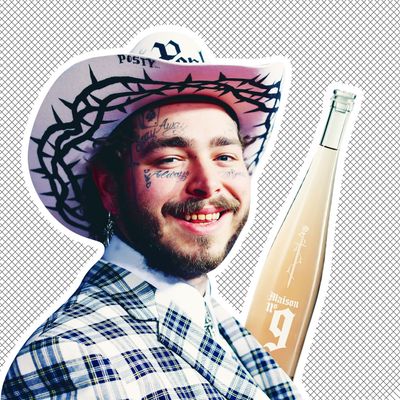 Photo: Getty Images, Maison No 9
I'm a great lover of rosé, a much-maligned wine whose froofy, unsophisticated reputation is truly undeserved. It's a stigma that goes back to 1975, when Sutter Home accidentally created White Zinfandel (a jammed machine caused limited grape skin contact, turning the wine pink; this process, known as maceration, is how most rosé is made).
A few years later America became obsessed with "white zin," and this cheap, sugary drink gave rise to the tacky rep that rosé still bears today. It's very unfair, because rosé is not only one of the oldest kinds of wines (in Ancient Greece, most of the wines were a pale pink), it can be as complex and sophisticated as any other variety.
And now there's another chapter being added to the long and storied history rosé, with the introduction of a new rosé made by Post Malone. Yes! That Post Malone, who this website has referred to as the "small-toothed, curly haired rapper known for his face tattoos and several chart-topping songs about girls, beers, and sadness."
"Rosé is for when you want to get a little fancy," Post says in a press release. "It's a nice switch up." The release describes the wine, which hails from France's primary rosé region, Provence, as a "light, high-quality, [and] accessible."
Maison No. 9, which you can buy online for $21.99, sold out immediately upon its presale launch last week. But what does it taste like? And even if you have a great love for Post Malone — as we do — should you buy it? Four Cut staffers weigh in.
"Fruity and pleasant, not too sweet"
I loved everything about my experience with Post Malone's rosé, which was exactly how it should be. First, I found it in a box in my basement. Second, it was too tall to fit in my fridge. It has a screw top like a fifth of Jack Daniels but with the elegant neck of a swan. I thought it might taste like some of Post's other collaborations such as a Dorito or a Bud Light but it tasted mostly like rosé: fruity and pleasant, not too sweet. The tasting notes on Wine.com said it was like strolling through a pleasant garden, so I closed my eyes and imagined doing that with Post, sipping from two solo cups of his pink drink, perhaps on the grounds of his cursed house. It was very nice. —Bridget Read, writer
"It tastes like every rosé ever — and that's not a bad thing"
When I received my bottle of Maison No. 9, my first thought upon seeing the slender glass bottle was whether or not the Olde English font and rosé dagger were hand-picked by Mr. Post Malone himself because they were the same as his tattoos. I ended up trying the rosé on a humid and rainy Saturday afternoon, when I was already in a bad mood and summoned my upstairs neighbor to join me outside for a glass and to talk shit. Her humble review of Posty's rosé is succinct and to the point: "It tastes like every rosé ever." And that's not a bad thing. His rosé went down smooth — a little too smoothly, perhaps, as the two of us sat outside during a full downpour, which turned into a day-drinking session that ended in naps and evening "karaoke." So I'd like to thank Posty for the perfect summer gossip sesh rosé; he knew we'd need it in quarantine. —Kerensa Cadenas, senior editor
"Everyone will like it, but no one will love it"
I am skeptical of celebrity rosé brands — Jon Bon Jovi's Hampton Water, has, to this day, given me the worst hangover of my life, and DJ Khaled's bubbly rosé tastes like soap. But then there's Miravel, the wine made by Brangelina's French winery (they still own it together), which is truly excellent.
It's with this celeb wine savvy that I came to Post Malone's Maison No. 9. I'll start with the bottle, an elegant thing half my height and with a delicate glass cork that one can screw off without an opener. (Post obviously knows that rosé is meant to be drunk at a picnic, where one never remembers their opener.) I drank this wine with my boyfriend, a Post Malone devotee but harsh critic of rosés. He detected a smoky aftertaste, which I missed, and "melon, but in the burp." Meanwhile, I got a lot of strawberry on the nose, with a wetter mouth feel than I like with light wines. It's on the sweeter side, and pleasantly acidic. If I had to describe the flavor in a few words I would say it's a bit like drinking a pink starburst, which everyone likes, but nobody loves. —Sangeeta Singh-Kurtz, senior writer
"Inoffensive"
I have been known to casually imbibe wine, with a preference toward those that are funky, priced no higher than $25, and as cloudy as lake water. To my palate, the worst thing a wine can be is sweet, which is why I typically avoid rosé — I've simply had too many glasses that taste like a melted popsicle.
May that serve as my disclaimer for my review of Post Malone's rosé: I truly have no idea what I'm talking about. That being said, I found it enjoyable! It wasn't overly sweet, but it also wasn't astringent; one of my best friends, with whom I split the bottle while catching up on my stoop on an unbearably sweaty night, also found it entirely drinkable.
The word I've used most frequently to describe it is inoffensive: I would gladly drink it if it was in front of me, but I likely wouldn't seek out the aerodynamic bottle at a liquor store. In any case, I think I'll be enthusiastically recounting my experience of drinking the bottle for quite some time, mainly because while I was finishing it off, my neighbors — who were throwing an absolute rager of a birthday party for a child who couldn't have been older than eight — put on a Post Malone song. I love serendipity! Also, I awoke with zero hangover, which was sick. —Amanda Arnold, staff writer