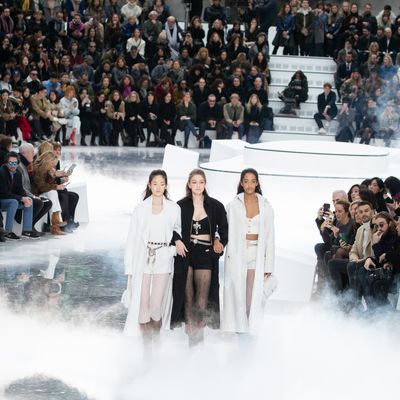 To be frank, fashion right now is kind of a mess. The industry is learning to adapt to many of the challenges created by the pandemic: halted production, closed retailers, widespread job loss, and consumers who are hesitant to spend money. But a more complicated problem is posed by global Fashion Weeks — those hedonistic events where editors, models, buyers, press, influencers, and celebrities gather in close quarters to get a live, 3D, up-close-and-personal look at a designer's vision.
In theory, Fashion Week needs to be held in person because nothing beats the power of a runway show. But does it really? This year, designers in all the fashion capitols are experimenting with new ways to communicate their ideas, whether through virtual showrooms or live broadcasts of models walking the runway in front of empty seats. Here's what we've gathered so far about what Fashion Week will look like for the rest of the year.
Some Brands Will Be Hosting Virtual Shows
The Fédération de la Haute Couture et de la Mode (FHCM), the authority on French fashion and Paris Fashion Week, announced a digital fashion week of sorts from July 6–13. The first three days mark the first-ever virtual couture presentations, while the following five will be menswear.
Schedules are still TBA, but some brands have already committed to participating. On July 6, Hermès is livestreaming a digital "experience" of its spring 2021 collection, slated to go live at 8 a.m. ET. Chanel, who tested the virtual waters with a June cruise show, will show on July 7. Dior Men's Kim Jones confirmed a digital presentation on July 11 (we'll miss seeing literally every celebrity in the front row). And at her headquarters in Tokyo, Rei Kawakubo will debut a video presentation featuring all of the Comme des Garçons labels on an undisclosed date. Rick Owens will also show something emphatic, apparently. "How not totally sure,'' Owens said in an email to the New York Times. "But definitely not silent."
Over in Milan, an early epicenter of the coronavirus during its Fashion Week in February, the Camera Nazionale della Moda Italiana (CNMI) announced Milano Fashion Week Digital from July 14–17. Brands can hold social-media panels and virtual showroom appointments, or debut live digital runway presentations. "Everybody can decide their own message. The advantage is that in a digital world, you are completely free. We said to everybody, 'You have from one minute to 15 minutes, and you decide what you want to show,'" Carlo Capasa, the president of the CNMI, told Vogue.
A large majority of Italian brands have yet to confirm their participation (a common theme across the Fashion Week cities at this point), but there's still a couple to look forward to. On the last day of the event, Ermenegildo Zegna will stage what designer Alessandro Sartori has dubbed a "phygital" show — yes, that's a combination of "physical" and "digital."
Also on the 17th, Gucci will premiere "Epilogue," its men's and women's resort 2021 digital fashion show, which was originally scheduled for May 18 in San Francisco. "Epilogue" marks the mark the end of the old fashion schedule for the brand under creative director Alessandro Michelle, who'll now only produce two shows a year in the spring and fall, rather than a staggering five. Likewise confirmed to take part, according to the New York Times: Bottega Veneta and Dsquared2.
In another region of Italy, Puglia, at the Piazza Duomo, Dior will unveil its cruise 2021 collection designed by Maria Grazia Chiuri on July 22. There won't be an actual audience, but there will be real models walking live.
Burberry will have a show for its spring/summer 2021 collection "set in the British outdoors" on September 17. The live presentation will be open, says the brand, "for all to experience digitally" (phygitally?). Burberry hopes to give us all a chance to "reconnect with nature and each other," which we will somehow accomplish through our screens.
Some Brands Are Trying Experimental Projects
A few designers are going beyond "phygital" shows, using the historic circumstances as a chance to try something truly new (which, after all, is what fashion is all about).
On the first day of Paris couture, July 6, at 8:30 a.m. ET, Dior will unveil a "surprise" which the brand only described as taking a "special approach." Valentino is also participating in Paris Couture, sort of: On July 8, the brand will reveal a teaser of sorts for a later event event on July 21 at Cinecittà Studios in Rome, which will take place in front of a small actual audience while also being livestreamed. It's a collaboration between the Valentino designer Pierpaolo Piccioli and the SHOWstudio creator Nick Knight. The live event will "bring together the human and the digital touch creating a dialogue where neither of them will take the lead," the brand said in a mysterious statement.
Iris Van Herpen is a pioneer in the industry for fusing technology and traditional couture craftsmanship, so of course she's rising to the occasion. Her original mini-film debuting July 7 will be one to watch (stoned, ideally).
On July 15, during Milano Digital Fashion Week, Etro will present its spring/summer 2021 men's collections and women's pre-collections with an actual, live runway show. For those not on the limited in-person guest list, it'll be livestreamed from the Four Seasons Hotel in Milan.
And Kerby Jean-Raymond of Pyer Moss is also doing his own thing. The brand is staging a "drive-in" fashion experience tour of Jean-Raymond's new film American, Also, in multiple cities. Given his history of calling out racism in the industry and the title, it'll probably have a very timely and necessary meaning embedded. Following the premiere, the event will be available for public consumption. More details are still coming.
Some Brands Are Taking a Pause
Most of the announcements to step back came from brands that normally show in Paris.
Virgil Abloh's Off-White will wait until January 2021 to present his women's and men's spring collections. Given the timing, it also means that Abloh is experimenting with an adjusted fashion calendar; the collection will be available for purchase just a month later, in February. Instead of participating in FHCM's digital couture Fashion Week, Giorgio Armani Privé will have a seasonless show in Milan in January, as well as Chitose Abe of Sacai, who'll debut her first couture collection for Jean Paul Gaultier.
Demna Gvasalia was set to debut Balenciaga's first couture show in July, 50 years since founder Cristóbal Balenciaga shuttered his atelier. The brand still hasn't confirmed a new date for the show, but it will likely be postponed until 2021. Pushing off even further until February 2021 is Dries Van Noten. It still remains to be seen if he'll stick to the traditional fashion calendar of showing a fall/winter collection six months ahead of time.
Michael Kors revealed plans to experiment with a see-now-buy-now calendar, showing two collections a year with men's and women's combined after the European shows. According to a statement from the brand, the spring/summer 2021 Michael Kors Collection "will be presented sometime between mid-October and mid-November 2020, with the format of the presentation still currently under exploration," while the fall/winter collection will take place "sometime between mid-March and mid-April."
Saint Laurent under Anthony Vaccarello is taking time to reevaluate too. "Saint Laurent will not present its collections in any of the pre-set schedules of 2020," the brand said in a statement. "Saint Laurent will take ownership of its calendar and launch its collections following a plan conceived with an up-to-date perspective, driven by creativity."
And Some Brands Won't Change a Thing
On June 24, FHCM announced that they'll go ahead with its ready-to-wear Fashion Week as usual from September 28–October 6 despite uncertainty around global health and travel restrictions. (One Twitter commenter noted, "Yikes Paris is now the Florida of fashion weeks, didn't see that coming.") What the shows will ultimately look like or who will even attend remains is still up in the air. "Even if the current situation has led to a great deal of innovation in online projects, nothing can replace the physical event," Pascal Morand, executive president of the FHCM said to Business of Fashion, adding that "the 'majority' of Paris houses want to stage at least some sort of physical event this September."
Following the lead of Paris Fashion Week, CNMI announced that physical shows will take place September 22–28 for Milan Fashion Week. "[The digital Fashion Week in July] is designed to support, rather than replace, the physical fashion calendar, which will resume in September and will remain vital in promoting Made in Italy and the value of its manufacturing prowess," CNMI president Carolo Capasa said in a statement.
Fendi has confirmed its plans to show at its Rome headquarters on September 22. And another Italian brand, Dolce & Gabbana, is planning its own couture men's and women's shows to celebrate the city's artisans on September 2 and 3 for Pitti Immagine Uomo in Florence.
Keep checking back as we make updates to this article as they're announced.