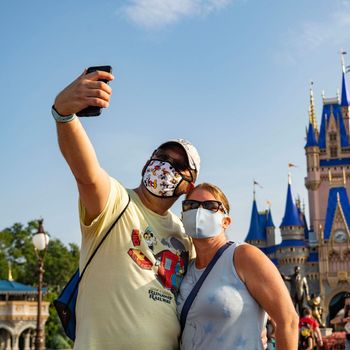 Guests on Disney World's reopening weekend.
Photo: Matt Stroshane/Walt Disney World Resort via Getty Images
Walt Disney World Resort, Disney's massive theme park near Orlando, Florida, reopened two of its six parks to visitors this weekend, despite the state's record-breaking spike in COVID-19 cases.
Just under four months after the resort closed due to the outbreak of the novel coronavirus, thousands of guests poured into Disney's Magic Kingdom and Animal Kingdom parks on Saturday. In accordance with the company's new COVID-19 regulations, the parks are operating at limited capacity, and visitors have their temperatures checked near park gates. Disney has also installed plexiglass partitions in shops and restaurants and installed 4,000 hand-sanitizing stations, per the New York Times.
In addition, all guests over the age of 2 are required to wear masks while in the parks. Well, mostly. The parks have a handful of indoor, mask-free "relaxation zones." As a Disney spokesperson told the New York Post, "Each park offers at least one indoor location with A/C," with "physical distancing and a limited number of guests." WDW News Today, a Walt Disney World fan blog, noted: "Of course, you are entering these zones at your own risk."
An additional measure: Guests who are not wearing masks on rides will not receive their ride photos afterward, the park says.
Many health experts are concerned about the park's decision to reopen even as Florida experiences a massive surge in COVID-19 cases. On Sunday, the day after Disney World reopened its doors, the state reported 15,299 new cases — a new record for the highest number of new COVID-19 cases in a state on a single day. So far, there have been over 269,000 confirmed cases in Florida and over 4,200 deaths. Orange County, where Disney World is located, has seen 18,000 cases, the fifth-highest number in the state.
Disney employees have also expressed concerns about the reopening. The Actors' Equity Association, a union that represents about 750 of Disney World's 75,000 employees, demanded that the company provide regular COVID-19 testing for workers. But the company has said that regular testing is not part of its reopening plan, and it reopened without calling back its Actors' Equity Association employees, a decision Mary McColl, executive director of the association, characterized to Deadline as an act of retaliation against "workers fighting for a safe workplace during this pandemic."
A Disney spokesperson said that its safety protocols had been accepted by other unions and that it had "decided to move forward with our phased reopening without [Actors' Equity Association] participation."
Despite the park's new safety measures, pictures and firsthand accounts on social media seem to show that the Disney's enforcement of social-distancing protocols has been somewhat irregular.
Currently, two of Disney World's other parks, EPCOT and Hollywood Studios, are set to open Wednesday. Its two water parks will remain closed for the time being.