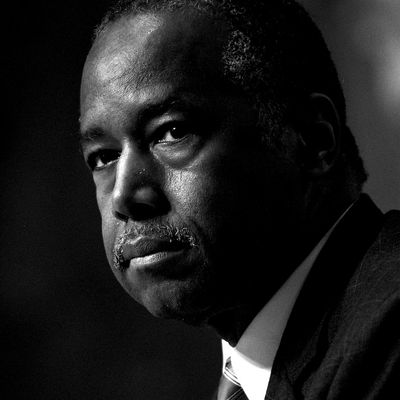 Ben Carson, head of the U.S. Department of Housing and Urban Development.
Photo: Astrid Riecken/Getty Images
On Wednesday, the U.S. Department of Housing and Urban Development announced a proposal that would allow operators of federally funded, single-sex homeless shelters to make determinations about where and whether to house people seeking accommodations, based on their "biological sex." This could effectively let shelters deny entry to transgender and gender non-conforming people.
The proposal would modify the Obama administration's 2016 addition to the Equal Access Rule of 2012, which was intended "to ensure that HUD's housing programs would be open to all eligible individuals and families regardless of sexual orientation, gender identity, or marital status." The 2016 update obligated shelters to accept transgender people, a requirement HUD's latest policy change seems designed to undo:
The new rule allows shelter providers that lawfully operate as single-sex or sex-segregated facilities to voluntarily establish a policy that will govern admissions determinations for situations when an individual's gender identity does not match their biological sex. Each shelter's policy is required to be consistent with state and local law, must not discriminate based on sexual orientation or transgender status, and may incorporate practical considerations of shelter providers that often operate in difficult conditions.




The proposed rule modifications also better accommodate religious beliefs of shelter providers. For example, such policies could be based on biological sex, sex as identified on official government identification, or the current rule's mandate of self-identified gender identity.




All shelters serving a specific sex must provide people who they do not accommodate with information about other shelters in the area that can meet their needs. Similarly, if a shelter elects in its policy to accommodate persons whose gender identity is different from their sex, persons who have concerns with being housed with persons of a different biological sex, such concerned persons must be provided a referral to a facility whose policy is based on biological sex.
In a statement, HUD Secretary Ben Carson said that the proposal would empower "mission-focused shelter operators" — i.e., religiously affiliated shelters — to better "[safeguard] victims of domestic violence or human trafficking."
And yet, transgender and gender non-conforming people are at particular risk of violent assault: In the 2015 U.S. Transgender Survey, 54 percent of respondents had experienced intimate partner violence in their lifetime. Almost half reported having been sexually assaulted. Nearly one in three people surveyed had experienced homelessness, and of that group, 26 percent said they avoided staying in shelters for fear of mistreatment. Of the group that did stay in shelters, 70 percent reported harassment, physical and sexual assault, and sometimes, removal on the basis of their gender identity. A second study looking at shelters' treatment of transgender people before the 2016 rule went into effect found that just 30 percent of shelters surveyed would house transgender people in accordance with their gender identity, while one in five refused to house them at all. HUD's policy does not clarify what people are supposed to do in the absence of an area shelter willing to "meet their needs."
As the ACLU points out, the proposal comes "in the midst of the highest unemployment rates our country has seen it decades." It also comes weeks after the Trump administration finalized a rule eliminating protections against discrimination based on gender identity in health care — amid an ongoing pandemic, no less — and after the Supreme Court ruled that employers cannot discriminate on the basis of gender identity or sex.
"In a week where 3 Black trans women have been murdered, the federal government is pushing more people into the street," the ACLU said on Twitter. "This is a dangerous proposal that will embolden violence against transgender people."