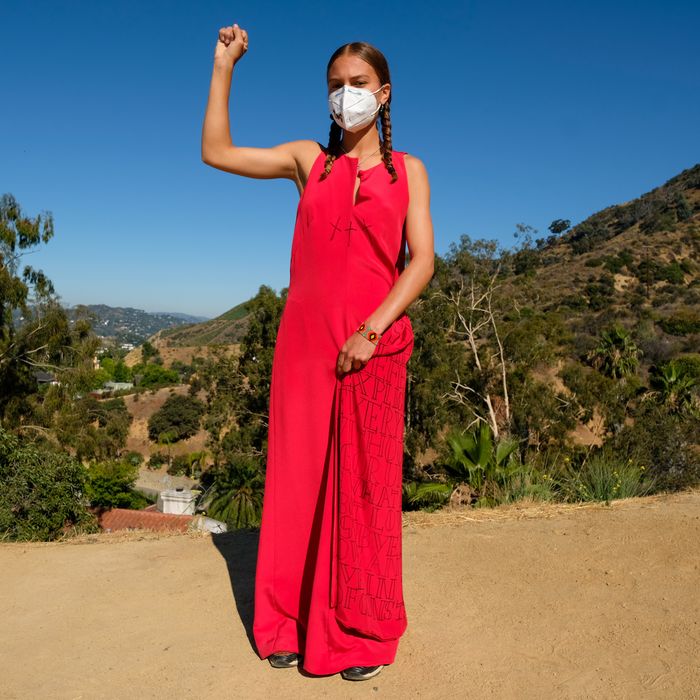 Photo: Courtesy of Imitation of Christ
On July 4, just two days before the official start of Paris couture digital shows, indie brand Imitation of Christ returned after a seven-year hiatus for a socially distanced show underneath the Hollywood sign. Titled "Americans Not Allowed in Paris," the collection's ethos of creating beautiful things with no waste feels more relevant than ever.
The eco-conscious brand is resurrected after a topsy-turvy history in the early aughts. It was founded in 2000 by Tara Subkoff and Matt Damhave, who appointed Chloë Sevigny as its first creative director. Soon, celebrities like Mary-Kate Olsen, Scarlett Johansson, and Maya Rudolph were all fans. Imitation of Christ's output was on and off, before disappearing in 2013. Now, two decades after its inception, Subkoff passes the reins to three young artists in their late teens.
Mentored by Subkoff, who also offered her backyard as the show's backstage, the new creative directors — Lulu Syracuse, Jersey Bond, and Hudson Schaetzke — created hand-sewn looks from vintage clothing cleaned out from their closets during lockdown. Their friends modeled. And in the spirit of protest, they printed phrases onto the collaged clothing like "Fuck ICE" and "The more you consume, the less you live."
"These are supercharged creative young artists who had something to say and needed a platform during an incredibly challenging time on the planet," Subkoff said in a statement. "All who worked on the show are also protesting for their futures. Their collaborative work 'marries' their real social justice work." The looks are being auctioned on the brand's Instagram starting Monday, July 13, to benefit Direct Relief, Fridays for Future, and Black Lives Matter. Watch the presentation below.