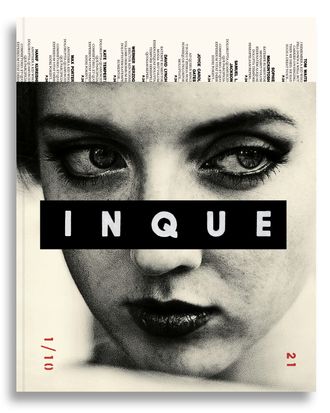 Photo: Jack Davison, Courtesy of Inqu
With so many businesses struggling to survive right now, it's both surprising and encouraging to see new creative endeavors continue to pop up. This week, publishing veterans Dan Crowe and Matt Willey announced their plans to launch Inque (pronounced "ink"), a large-format title dedicated to "commissioning and publishing diverse global writing next to extraordinary art, design and photography," but with a radical business plan.
For starters, Inque will not be beholden to advertisers, because it won't have any. Crowe and Willey, who previously launched Port and Avaunt together, wanted full creative control. They hope to raise funds for the first issue (about $200,000) with a Kickstarter campaign and be self-sustaining after that with a subscription service, plus sales from select vendors. They also plan to sell T-shirts, tote bags, and limited-edition art prints.
Inque is also different in that there will only be ten issues total, with one published every year. After that, it's over. "It is a ten-year creative document, an ad-free hybrid magazine set to the rhythm of its time, showcasing new talent alongside living icons and commenting on what will be an extraordinary decade," says Crowe. And it will not be published online. Gasp!
The lineup of contributors is already robust. Jonathan Lethem will write a new novel over the course of the ten issues, with one chapter per issue; Chimamanda Ngozi Adichie will select new African writers for each issue; plus Tilda Swinton, David Lynch, and Samuel L. Jackson will also be involved. An editorial board composed of writers, editors, and publishers like Wesley Morris and Hanif Kureishi will serve as the "masthead," so to speak, and help to create each issue.
Starting anything new is a risky proposition right now, but there are a lot of big names involved, and, as Crowe said, this is certainly poised to be an "extraordinary decade." Watch Inque's Kickstarter video, below.