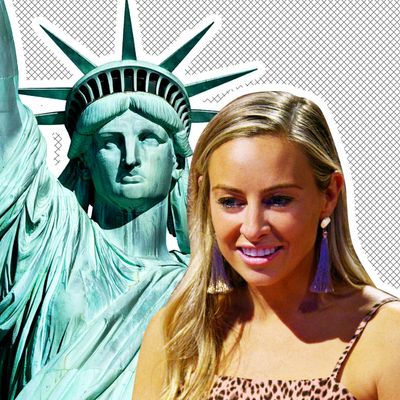 Photo: Getty Images, Netflix
You remember Love Is Blind, right? From the before times? Netflix's demented reality dating show took up the greater part of people's attention in Februrary 2020, mostly because of its troubling premise: A spate of contestants agree to marry each other after forging a connection through thin blue walls over the course of several days. (The contestants, a dozen 20-to-30-somethings, were quarantined in windowless pods for a large part of the show. Hmmm.)
Anyway, after a successful first season that involved lots of drunk people fighting and crying and feeding their dogs wine, Love Is Blind was renewed for two more seasons, and it seems as if recruitment for the next group of reality stars is already under way. What's more, it looks like producers are in New York and they're coming for people on dating apps.
A week ago, the Cut was sent a tip from an anonymous Hinge user who had received a DM from a woman introducing herself as a casting producer and explaining that she is "casting Love Is Blind in NYC."
"Could you ever see yourself finding love on the show?" she asked.
Netflix representatives for Love Is Blind did not respond to a request for comment, but according to last season's contestants, this is not a new tactic.
"I'm probably one of the most interesting cases because they actually found me on Tinder," a former contestant named Damien told Ellen Degeneres on a March episode of her show. "I started chatting with this girl, hit it off. She was like, 'Add me on Instagram.' We had a pretty good connection. Then she's like, 'I'm a casting producer.' I'm like, 'Catfish … haha.' Now I'm here."
The above screenshot suggests producers may have abandoned the catfishing method, but if you're in New York and using a dating app, you might be next. And honestly, if you've got nothing else to do, Love Is Blind may be the move for you. You should already be used to quarantine, and three of the six original couples are still together, including Tinder Damien up there, who, after leaving his partner, Gianina, at the altar in season one, is now living with her in domestic bliss. That could be you!