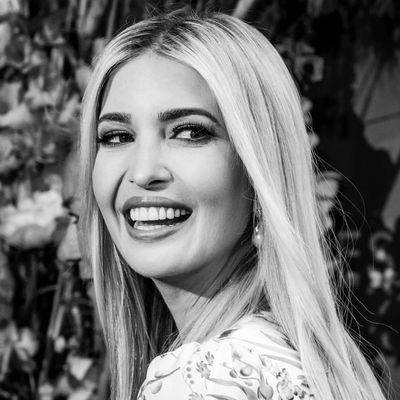 Photo: ROBIN UTRECHT/AFP via Getty Images
Ivanka Trump, daughter-adviser to the president, long known as an advocate for at least one woman, has joined the #WomenSupportingWomen challenge, posting a black-and-white picture of herself on Instagram. The caption reads, in part: "We are ALL mothers — we each bring something unique and beautiful into this world. Let's ❤️each other." Where does she find the time?
Ivanka's photo comes days after other celebrities' similar contributions, many of which were posted over the past weekend. The New York Times reported that the earliest related photo an Instagram representative could find was posted about a week and a half ago by a Brazilian journalist named Ana Paula Padrão. Others, including Zeycan Rochelle, a Black Turkish philanthropist (per her bio), have said the trend originated in Turkey, and was meant to raise awareness about domestic violence. (Taylor Lorenz, the author of the Times story, says Instagram told her these posts are unrelated to the recent resurgence of the #ChallengeAccepted trend, which has been around since 2016.)
In an Instagram caption, Rochelle writes that the trend "began to spread first in Turkey as millions of us here grieve the deaths of several women, this week alone, who have garnered a lot of media attention as victims of Femicide." She continues: "Your beautiful black and white photo is yes, meant to empower other women as your sister, but because so many men disregard and dispose us of our worth."
Ivanka recently wrote an entire tweet on the subject of domestic violence, so perhaps some landmark legislation is forthcoming, and the Instagram photo is merely a clue? It is hard to say. Despite her father's proclamation that October be henceforth known as "National Domestic Violence Awareness Month," the Violence Against Women Act has been stalled by the Senate for months.
This post has been updated.