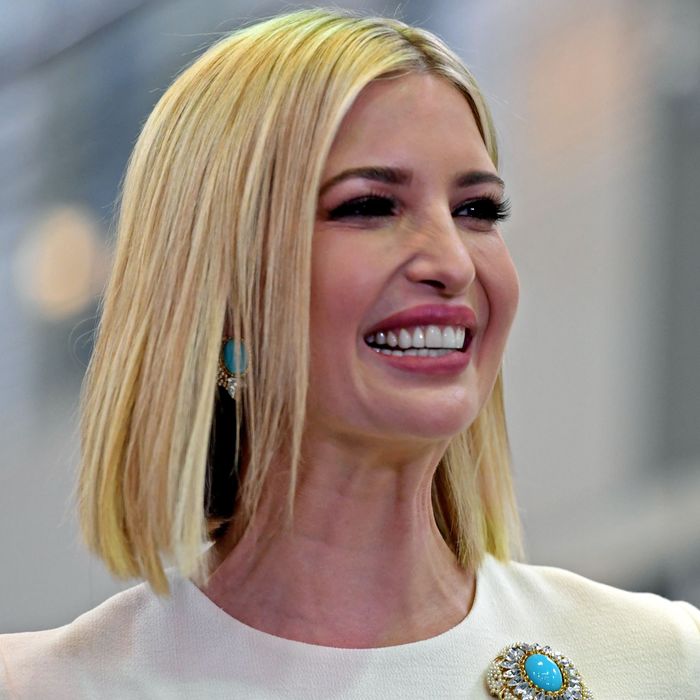 Ivanka Trump.
Photo: AFP via Getty Images
The U.S. is currently the midst of simultaneous health and economic crises that have left over 17 million people unemployed, according to the last jobs report. A reported 32 percent of Americans have not made their full housing payments for July. And things are almost certain to get worse at the end of the month, when the $600 federal unemployment weekly insurance subsidy is set to expire. It is against this backdrop that Ivanka Trump, First Daughter and famously out-of-touch woman, decided to offer a suggestion: Perhaps you could all find new jobs?
On Tuesday, Ivanka announced in a breezy tweet that the White House is launching a campaign called "Find Something New." It is, as the name suggests, an initiative meant to encourage people who are unemployed or unhappy in their jobs to simply pick up a new skill and enter a new field. Her announcement was accompanied by a brief ad that features testimonials from people, like one man who says, "I got laid off twice, but you got to keep going," and later, "I'm now a consultant in the tech space." Another woman, who appears to be a welder, says: "You just need the right skills. Find an apprenticeship."
And just where could one find such an apprenticeship? The Find Something New website provides links to learning and certification programs, but many are less than helpful. As Mother Jones notes, much of the site "reads like a choose-your-own-adventure where options like vague certificate and intensive programs are presented but with scant detail on how to pursue such paths, much less pay for some of them." The whole effort, unsurprisingly, has been widely lampooned as insensitive, tone-deaf, and wholly ineffective.
That Ivanka Trump struggles to read the room isn't exactly news. Think back to 2018, when reports emerged that migrant children were being torn from their families at the U.S.–Mexico border under President Trump's family separation policy; Ivanka's public response was to post a picture on Instagram of herself hugging her son, with the caption: "My [heart emoji]." Or there was the time in February 2019 that she, one of the country's most famous nepotism hires, was asked about the Green New Deal's job guarantee provision, and she said: "I don't think most Americans, in their heart, want to be given something… People want to work for what they get."
Currently, the unemployment rate in the U.S. is 11.1 percent — higher than at any point in the Great Recession. Indeed, it will likely be difficult for many Americans to "find something new" right now, given that the number of COVID-19 cases continues to rise in the U.S., and many employers are struggling to stay afloat. And many Americans, unfortunately, cannot simply rely on their dad to get them a job.