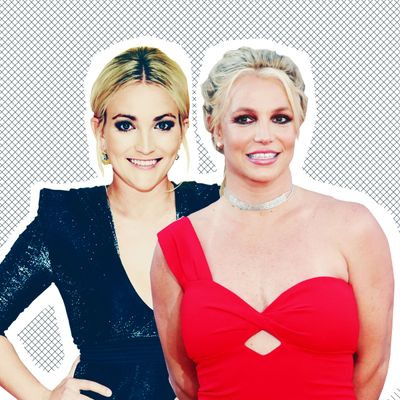 Photo: Debby Wong/Matt Baron/Shutterstock
On Tuesday, Jamie Lynne Spears issued a statement about mental health, apparently in response to the resurgence of the #FreeBritney movement, a campaign organized by some of her big sister Britney's fans demanding to have the pop star released from her conservatorship.
Britney has been in the care of a court-appointed authority, a "conservator" (currently her care manager, Jodi Montgomery), for over a decade, ostensibly to help manage her mental health. The hashtag movement has persisted, despite Britney commenting on the matter directly (she says "chill"), especially these last few months as fans believe the pop queen is sending them encoded calls for help through social media.
In a recent Instagram post, Jamie Lynn did not comment on the conservatorship directly but wrote about the need for privacy in matters pertaining to mental health. "If you deal with mental illness or care for someone dealing with mental illness, then you know how important it is to respect the situation with privacy for the person," Spears wrote. She also quoted a Halsey tweet from earlier this week urging people not to joke about Kanye West, whose recent outbursts could be a sign of deteriorating mental health. "Personal opinions about someone aside, a manic episode isn't a joke," tweeted Halsey. "It you can't offer understanding or sympathy, offer your silence."
Jame Lynn's comments did not quite end there. One commenter replied to Jamie Lynn's post, "How about your sisters OBVIOUS mental illness? Why don't you speak on that?" To which Jamie Lynn responded, "you have no right to assume anything about my sister, and I have NO right to speak about HER health and personal matters. She is a strong, badass, unstoppable woman, and that's the only thing that is OBVIOUS."
These comments come nearly a week after Britney's mother Lynne Spears filed papers requesting to be notified of decisions pertaining to her eldest daughter's finances. Us Weekly reported on Tuesday that Britney and her father Jamie Spears (who was, until recently, acting as her conservator) will virtually attend a status hearing on the conservatorship this Thursday.