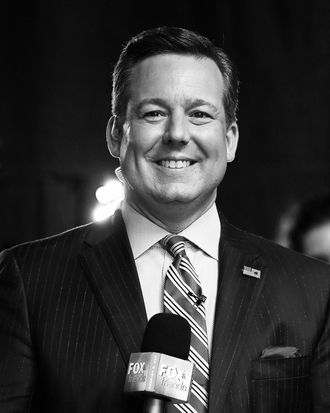 Photo: John Lamparski/Getty Images
On Monday two women — former Fox News producer Jennifer Eckhart and frequent on-air commentator on the network Cathy Areu — filed a civil lawsuit accusing former Fox News anchor Ed Henry of rape, sexual misconduct, and harassment. Henry was fired from Fox News earlier this month after an internal investigation into Eckhart's allegations of sexual misconduct. Eckhart was not publicly identified as the victim at the time of Henry's departure from the network, and the allegations were characterized more broadly as "sexual misconduct." Both women are seeking damages against Fox News for sexual harassment, retaliation, and creating a hostile work environment. Eckhart is seeking additional damages for violations of sex-trafficking laws, the New York Times reports.
Eckhart alleges in the lawsuit that Henry, a network star when she came on board in her early 20s, "preyed upon, manipulated, and groomed her." The Times reports that Henry allegedly coerced Eckhart into a sexual relationship, which included "sadomasochistic sexual favors," with promises of helping her career. Eckhart claims Henry raped her in a Manhattan hotel room in 2017.
Areu, who was not a Fox News employee but appeared on its programs, claims Henry sent her sexually explicit messages. She also described a pattern of sexually inappropriate behavior from other network stars including anchors Tucker Carlson, Howard Kurtz, and Sean Hannity, who were named as defendants in the suit. In the lawsuit, she describes an on-set incident in 2018 in which Hannity allegedly encouraged male crew members to take her on a date and referred to her as a "beautiful woman." In a separate incident, Carlson allegedly told Areu that he was staying without his family in a Manhattan hotel. Areu also claimed Kurtz invited her to meet him in the lobby of a hotel where he was staying in 2019, an invitation she declined. What unites these three incidents, Areu claims, is that each led to career setbacks, and fewer opportunities to appear on the hosts' programs.
Fox News responded to Areu's allegations in a statement, calling them "false, patently frivolous, and utterly devoid of any merit." The network did not deny or discredit Eckhart's allegations, but said, "Fox News already took swift action as soon as it learned of Ms. Eckhart's claims on June 25, and Mr. Henry is no longer employed by the network." Henry's lawyer Catherine Foti characterized the claims against her client as "fictional," adding, "The evidence in this case will demonstrate that Ms. Eckhart initiated and completely encouraged a consensual relationship."