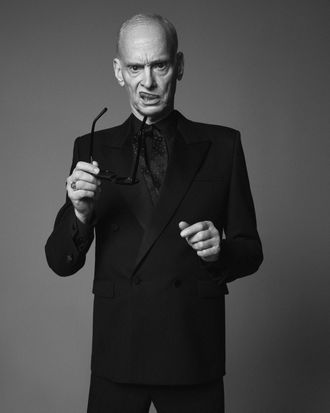 John Waters is a distinguished gentleman of many aliases: the Pope of Trash, the Duke of Dirt, the Prince of Puke. And now, he's the new face of Saint Laurent.
The director, writer, actor, artist, and exceptional weirdo stars in the brand's fall 2020 menswear ad campaign. Shot by creative director Anthony Vaccarello's trusty photographer David Sims, he wears a sleek black tuxedo with a polka-dot cravat in the images. With his judgmental sneer, deep gaze into the camera, and signature skinny mustache, it's all very much a vibe.
Known for his transgressive cult films like Pink Flamingos and Polyester, Waters sees fashion as an important part of his life (he's obsessed with Rei Kawakubo). In March, he attended the Saint Laurent show in Paris. He follows celebrities like Keanu Reeves, Marilyn Manson, Lenny Kravitz, Rami Malek, and Courtney Love as a face of the brand. An odd match that works indeed.