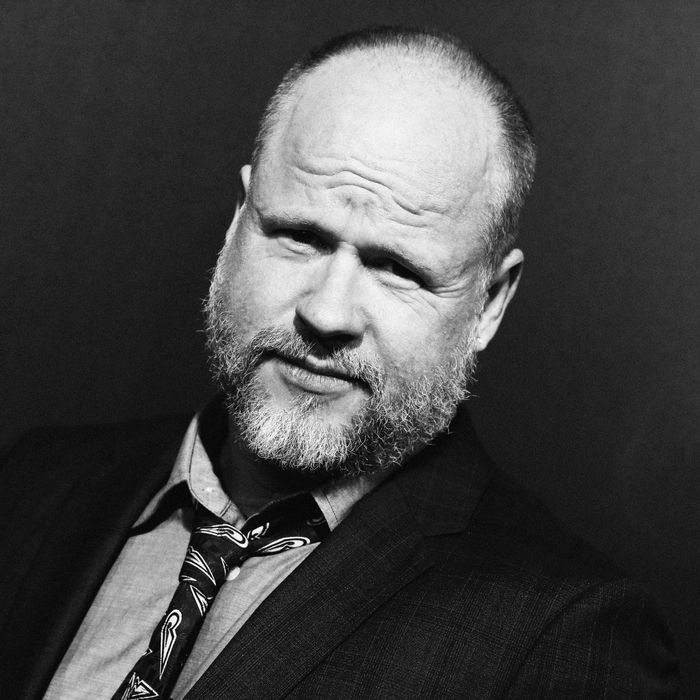 Joss Whedon.
Photo: Matt Baron/Shutterstock
On Wednesday, actor Ray Fisher fired off a tweet accusing producer Joss Whedon of "gross, abusive, unprofessional, and completely unacceptable" on-set behavior toward the cast and crew of Justice League. Whedon inherited the superhero consortium movie from its original producer, Zack Snyder, and addressing the handover in 2017, Fisher — who played Cyborg in the film — initially described Whedon as a "great guy," adding that Snyder "picked a good person to come in and finish up for him."
In a tweet on Monday, however, Fisher said he would "like to take a moment to forcefully retract every bit" of that statement. He has also accused producers Geoff Johns and Jon Berg of enabling Whedon.
While Fisher did not go into detail as to the nature of Whedon's alleged behavior, he is not the first one to accuse the producer of creepy and upsetting comportment.
Fans have speculated that Whedon fired an actor over her pregnancy.
Actor Charisma Carpenter played a pivotal role on Whedon's Buffy the Vampire Slayer as well as its spinoff, Angel. Ahead of season four of Angel, however, Carpenter informed production that she was pregnant, which is allegedly when things started to deteriorate. In the fourth season, her character's story arc took a strange turn for the outlandishly evil, culminating with a coma from which she never emerged. At the time, viewers wondered if Carpenter had been written out of the series because of her pregnancy, speculation Whedon appeared to refute in a 2003 interview with TV Guide. He said that Carpenter's storyline had simply played itself out, adding that any reported tensions between himself and the actor were "stuff between us and not stuff that I would talk about in an interview."
In 2009, however, Carpenter suggested that her pregnancy had indeed been a factor in her departure from Angel. "What happened was that my relationship with Joss became strained," she said at that year's DragonCon convention, according to the Telegraph. "We all go through our stuff in general [behind the scenes], and I was going through my stuff, and then I became pregnant. And I guess in his mind, he had a different way of seeing the [fourth] season go." She went on to say:
I think Joss was, honestly, mad. I think he was mad at me and I say that in a loving way, which is — it's a very complicated dynamic working for somebody for so many years, and expectations, and also being on a show for eight years, you gotta live your life. And sometimes living your life gets in the way of maybe the creator's vision for the future. And that becomes conflict, and that was my experience.
Carpenter suggested to Complex in 2018 that production did not sufficiently account for her pregnancy in setting the schedule, compounding her devolving relationship with Whedon: "It wasn't necessarily graceful on either side. So it was difficult, I think for them to accomplish what they needed to accomplish with a female lead in the position I was in but these things can be done and they have been done and they've been done gracefully in the past with other productions, I'm sure."
Whedon's ex-wife has accused him of posturing as a feminist to hide his infidelities.
Whedon has been vocal about his identification as a feminist, but according to his now-ex-wife, Kai Cole, it's an act. In 2017, Cole wrote an essay for The Wrap, addressing their divorce after 16 years of marriage. In it, she details Whedon's eventual admission, in a letter she says he wrote her near the end of their relationship, to more than a decade's worth of infidelities. "As a guilty man I knew the only way to hide was to act as though I were righteous," the letter read, according to Cole. She also said he told her: "It's not just like I killed you, but that I'd done it subtly, over years. That I'd been poisoning you. Chipping away at you."
"He deceived me for 15 years, so he could have everything he wanted," Cole said. "I believed, everyone believed, that he was one of the good guys, committed to fighting for women's rights, committed to our marriage, and to the women he worked with. But I now see how he used his relationship with me as a shield, both during and after our marriage, so no one would question his relationships with other women or scrutinize his writing as anything other than feminist."
A rep for Whedon said Cole's "account include[d] inaccuracies and misrepresentations," but ultimately declined to comment "out of respect for his ex-wife."
Whedon has been skewered for his sexist first attempt at a Wonder Woman script.
Whedon has a history of creating strong (often they are literal superheroes) female characters, but typically those characters are white women who fit a very particular beauty standard, viewed through a distinctly cis-het male lens. (There is a whole blog, Joss Whedon Is Not Feminist, devoted to this topic.) Despite having described himself as a "woke bae" — arguably not the best way to signal one's sincere allyship — Whedon's initial script for Wonder Woman, which he wrote in 2006 and which leaked just before Patty Jenkins's movie came out in 2017, did not read as woke at all. Indeed, it read as a sort of male-gaze bodice-ripper.
"To say she is beautiful is almost to miss the point," as Whedon originally described Diana, played in the Jenkins version by Gal Gadot. "She is elemental, as natural and wild as the luminous flora surrounding. Her dark hair waterfalls to her shoulders in soft arcs and curls. Her body is curvaceous, but taut as a drawn bow … She is barefoot."
Other excerpts, splashed across Twitter, feature lascivious observations such as, "Then she moves her back leg and turns, fluidly, a curve rippling up her body as she folds into a dance that is sensual, ethereal, and wickedly sexy."
It was gratuitously horny, and not a little objectifying, just very cringey stuff. But when Whedon went back and read the script, he saw no issue. He told Variety he felt that his characters had "integrity."
"I don't know which parts people didn't like, but … I think it's great," he said. "People say that it's not woke enough. I think they're not looking at the big picture."
Ah yes, well. Perhaps "not woke enough" was never really the problem.