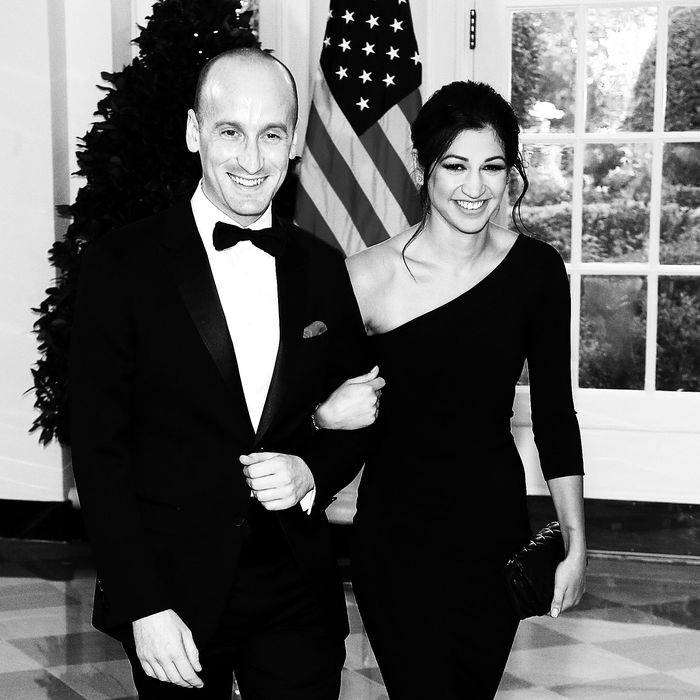 Katie Miller was reportedly unmoved by the family-separation crisis in the government's migrant camps.
Photo: Paul Morigi/Getty Images
Under a ghastly Trump-administration policy that officially started in 2018, thousands of migrant children were separated from their parents at the border with Mexico. Large numbers of them were confined to overcrowded cages inside detention centers, without access to basic hygienic materials, enough food and water, or adequate medical attention, according to Human Rights Watch. Six children died in Border Patrol's custody between September 2018 and May 2019 — a horrifyingly high number, particularly when you consider that the previous decade saw no fatalities.
In short, the Trump administration created a humanitarian crisis, but even that was not enough to move Katie Miller, the spokesperson for Vice-President Mike Pence and spouse to rumored white nationalist Stephen Miller. She reportedly told NBC News reporter Jacob Soboroff that the Department of Homeland Security dispatched her to the camps in a misguided effort to up her empathy quotient. According to Miller, it "didn't work."
Soboroff interviewed Miller in her past capacity as DHS spokesperson for his new book, Separated: Inside an American Tragedy. On Monday, Rachel Maddow ran the following excerpt, attributed to Miller: "My family and colleagues told me that when I have kids I'll think about the separations differently. But I don't think so … DHS sent me to the border to see the separations for myself — to try to make me more compassionate — but it didn't work."
Asked flat-out if she is a white nationalist, like her vehemently anti-immigration husband certainly appears to be, Miller told Soboroff no. But she added: "If you come to America you should assimilate. Why do we need to have 'Little Havana'?"
Which does not seem to fully answer the question, but possibly her love for the man who devised the family-separation policy should tell us everything we need to know.