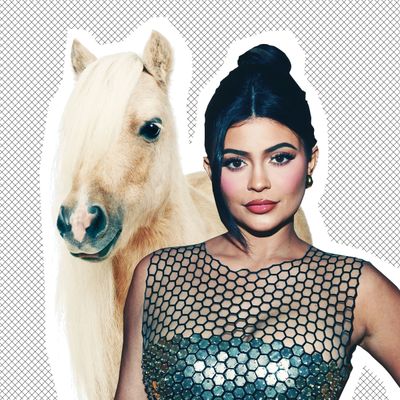 Not to be outdone by Kim Kardashian's 14 gorgeous Friesian horses, sister Kylie Jenner has reportedly purchased a gray pony, named Frozen, for her dear daughter Stormi Webster at a cost of $200,000.
Just like the Friesian horses, one of which belongs to Kardashian's 7-year-old daughter North, Frozen hails from the Netherlands, posing an issue of transportation. The Daily Mail reports that the pony was flown from the Netherlands to Los Angeles for an extra $7,000 to $10,000, and has been moved to a barn near Jenner's home in Calabasas, where it is currently undergoing a 14-day quarantine.
Breeder Stal Wilten reportedly confirmed the exorbitant purchase in an Instagram post on Thursday, writing, "#ThrowbackThursday goes to the most famous pony of them all Frozen. We got news he has landed in L.A. and living the life with a sweet little girl named Stormi. Her parents made sure their daughter had the most precious pony out there." (He has since removed the reference to the pony's new owner from the caption.)
Once it has completed its quarantine, the pony will join the menagerie of Frozen merchandise already in the toddler's possession. Webster's mini car collection features a Frozen motorcycle, and her second birthday in February was also Frozen themed.
People were quick to point out on social media that spending hundreds of thousands of dollars on a pony for a kid who is barely making memories while much of the country sinks deeper into poverty with each passing day is pretty garish. But clearly this family doesn't have reservations about "stoking backlash" by going on ridiculous horse expenditures — in fact, they're making a habit of it.