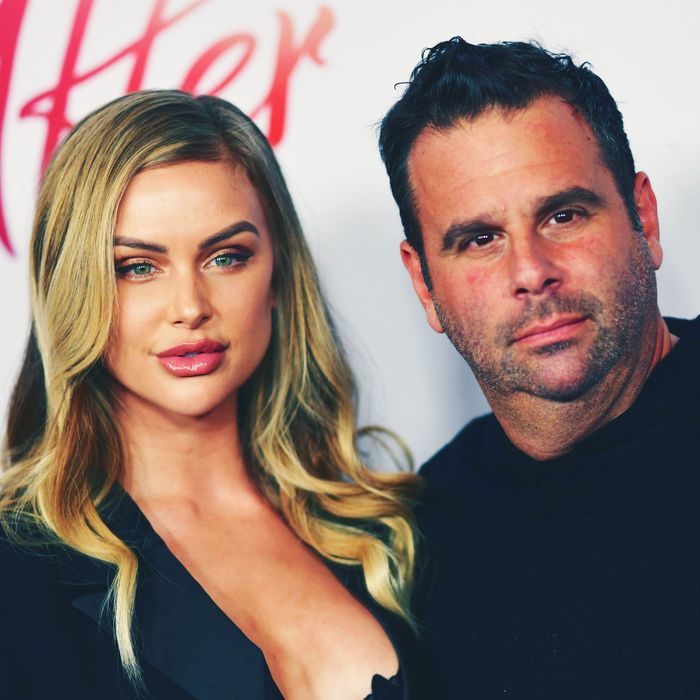 Photo: CHRIS DELMAS/AFP via Getty Images
Even as the list of celebrity COVID breakups grows apace, there are those couples that you never considered might someday appear on it. Their possible inclusion on a list of lovers who did not survive the pandemic drives an ice-cold stake through your beating heart, which used to believe that love and beauty were still out there in this cruel world.
For me, high up there on my personal list of such star-crossed pairs is Lala and Rand, a.k.a. Lala and "My MAN," a.k.a. Vanderpump Rules stars Lala Kent and Randall Emmett. Lala and Rand have already been through a lot in quarantine: They had to postpone their wedding, they "almost broke up a dozen times," and they became podcasters. Now Kent has sent fans into a flurry of uncertainty and fear with a very serious Instagram Story, posted after she deleted photos of Emmett from her feed — a sense of deep unease exacerbated by the fact that some noticed she does not follow him on the app. "Dear God, it is I who has made my life a mess. I have done it, but I cannot undo it," the story said. "My mistakes are mine & I will begin a searching & fearless moral inventory. I will write down my wrongs but I will also include that which is good. I pray for the strength to complete the task."
But these fears are likely unfounded: Kent has responded again in her Stories that her message is not "cryptic"; it's the fourth-step prayer from the Alcoholics Anonymous program which Kent has been following for more than a year. And Emmett has been posting photos on his own page of Kent with his children, and on his Stories of the family and Kent together in Puerto Rico (they are there because Emmett is filming his directorial debut Midnight in the Switchgrass, starring Machine Gun Kelly and Megan Fox [and Bruce Willis]) on the island. So everything maybe is okay? Except Rand doesn't follow her, either?! Except maybe they never followed each other in the first place??
What is happening? Are aliens real? Did something happen to Lala and Rand? Mysteries abound. May we soon come to understand.
Update, 11:34 a.m.: Lala has clarified some things for us. No, she and Rand have never followed each other. Yes, she deleted their photos together because she was mad at him, but they are still together! Bless.