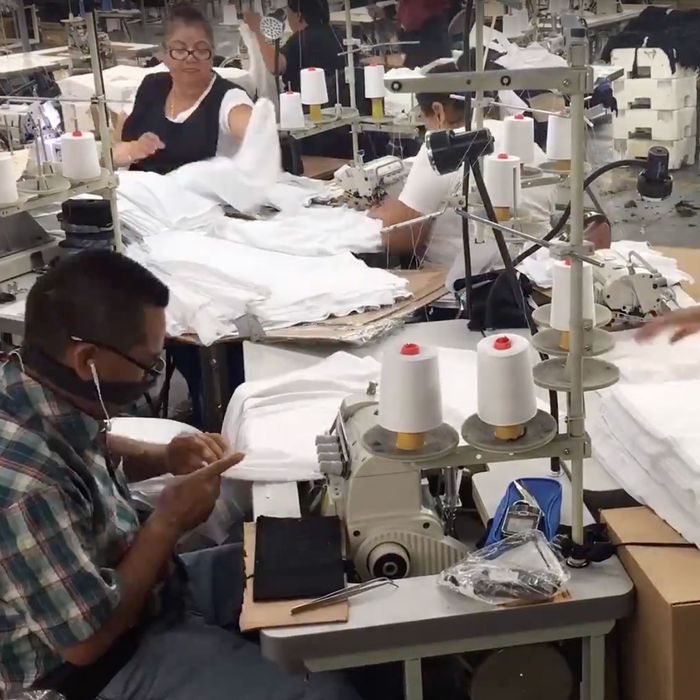 Garment workers inside Los Angeles Apparel in 2016.
Photo: Dov Charney/Youtube
In one of the largest outbreaks in a workplace reported in the U.S. thus far, more than 300 workers have contracted the coronavirus at Los Angeles Apparel, and 4 have died.
Los Angeles Apparel was founded in 2016 by Dov Charney, the problematic founder of American Apparel, who once told The Guardian that "sleeping with people you work with is unavoidable." (He has denied allegations of harassment.) His current factory, which employs just under 2,000 employees, pivoted from solely making basics to making face masks, which have mostly gone to government agencies. Since then, three deaths occurred in the beginning of June and one in early July.
"The death of four dedicated garment workers is heartbreaking and tragic," said Barbara Ferrer, the director of the Los Angeles County Department of Public Health (DPH), in a statement. "Business owners and operators have a corporate, moral, and social responsibility to their employees and their families to provide a safe work environment that adheres to all of the health office directives — this responsibility is important, now more than ever as we continue to fight this deadly virus." The statement also contains a timeline of the investigation.
On June 19, DPH was notified of a potential outbreak at Los Angeles. A site visit conducted by the health department on June 26 discovered multiple violations of social-distancing requirements and infection-control protocols, including the use of cardboard as a barrier between the workers. The next day, DPH shut down operations due to these "flagrant violations," as well as the company's failure to cooperate with an investigation — Los Angeles Apparel allegedly withheld the list of employees that the health department requested in order to compare testing results.
Once the list was submitted in early July, it was still incomplete, according to health officials. The company also had reopened with new employees, in violation of DPH orders stating that only employees who tested positive on or before June 26 could return to work if they had no symptoms. Last Friday, the department ordered the continued suspension of Los Angeles Apparel's operations.
According to Jan King, the regional health officer for South and West Los Angeles, this is one of the first forced closures of a factory in Los Angeles because of coronavirus-related outbreaks. Dov Charney responded to the allegations, telling CNN that officials are operating in "bad faith" and "looking for scapegoats," and suggesting that the shutdown was "political." He went on to defend his safety measures while operating, before raising the issue of the health-care system and government doing little to address racial inequities. "In fact, prior to being contacted by the health department, we proactively approached their offices to alert them about the rates of infection amongst our employees, the vast majority of whom are Latino," Charney said in a statement to WWD. "We recognized that this was perhaps an indicator of a potentially larger issue that wasn't being addressed by the public sector."
According to the Department of Health, Los Angeles Apparel will remain closed until "they can show that the facility is in full compliance with Public Health mandates." The New York Times said Charney is "learning a lot."
The Cut reached out to Los Angeles Apparel for comment and will update if we hear back.