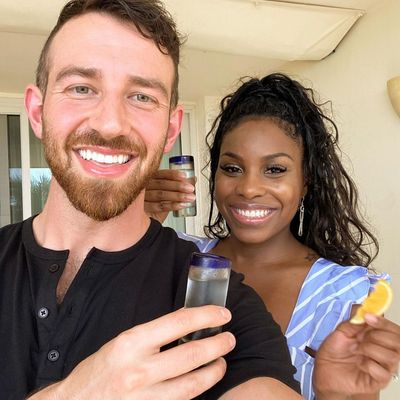 Photo: Cameron Hamilton/Instagram
Imagine this: You agreed to be a contestant on a reality-TV program. The prize was marriage to someone who had signed the same consent forms provided by the show's producers. Life was beautiful for a while, but it was also far too small. You sat in pods for several hours a day, and the rest of the time you lived in a clean apartment with an excess of roommates. You spoke only to people you might marry, or other people who might marry them instead, and were filmed the entire time. But it worked out somehow. You flew to Mexico and were filmed getting to know your lifelong partner in group scenes of high dramatic tension, then on to Atlanta to meet your love's regular family and sleep in their regular apartment. At last you walked down the aisle and said your vows, finally free to live an authentic life with your soul mate. Alas, then the social distancing we've all been facing hit, and reality contracted once more. At the end of it all, summer came again, heralding a slight easing of social-distancing restrictions, and with it choice, and with that choice you decided … to return to the exact same resort in Mexico your former producers picked out for you when you were doing the show? Really?
This is exactly what former Love Is Blind contestants — now husband and wife — Lauren Speed and Cameron Hamilton did. People reported on Monday that the reality stars are currently on a socially distanced vacation at the hotel in Mexico where Netflix sent them after they got engaged in the pods. (They are one of two couples from that show who are still married after falling in love with each other and agreeing to elope sight unseen.)
Hamilton wrote in an Instagram post on Saturday, "So many wonderful memories are flooding back being here. I've never been anywhere more romantic." He added that the couple is "maintaining our social distance, wearing masks, and sanitizing." Speed wrote in her own post about the couple's vacation that she's "taking a couple days to … really breathe and give my soul a little R&R."
Come to think of it, it actually makes perfect sense that these people who fell in love on a reality-TV show would find pleasure in returning to the source of their romance. One person's stifling loop of unprotected intimacy is another's comfort zone. Love is blind, but taste must have its reasons. Good publicity is one of them.