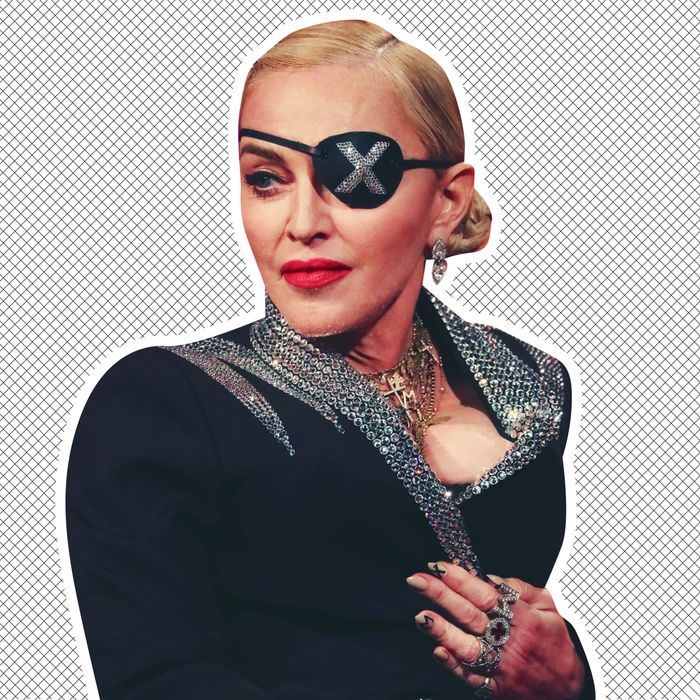 The eyepatch'd lady strikes again.
Photo: Getty Images
Behold, the key that unlocks the next level of chaos in the demon-sex discourse: a very famous, very eyepatch'd lady inserting herself into the controversy, and coming down hard on the side of conspiracy theorists. Was I expecting Madonna, Queen of Pop, to involve herself in this mess? No. Am I surprised to learn that she nonetheless has? Equally, no. Anyway, here we are.
As you may remember, "America's Frontline Doctors" gathered outside the Supreme Court on Monday to disseminate medical fallacies about the coronavirus. A now-infamous pediatrician-slash-minister, Stella Immanuel, told viewers that they don't need to wear masks, because coronavirus has a cure: hydroxychloroquine, a malaria drug that Donald Trump has repeatedly touted as a miracle COVID-19 treatment, despite an astounding lack of supporting evidence. That resonated with Trump, who retweeted the footage "several times," while a collection of Immanuel's other medical beliefs — most notably, that many gynecological complaints result from dream sex with demons, and the "evil deposits" they leave behind — came under scrutiny for being bananas.
But perhaps not to Madonna. On Tuesday, the singer posted the viral footage (which has since been removed by Twitter, Facebook, and YouTube, due to the inaccurate nature of its contents) to Instagram. Calling Immanuel her "hero" in the caption, Madonna reportedly wrote: "The Truth will set us all Free! (Notice how this info is being censored. But some people don't want to hear the truth.)" She also, apparently, stated that a coronavirus vaccine is already available, which … no.
Twitter, YouTube, and Facebook, which owns Instagram, had already flagged the video as misleading information, and Instagram quickly blurred out Madonna's post. Before the platform removed the content entirely, however, fellow '80s icon and possible Madonna nemesis (?) Annie Lennox went off in the comments. "This is utter madness!!!" she wrote, according to the BBC. "I can't believe that you are endorsing this dangerous quackery. Hopefully your site has been hacked and you're just about to explain it."
In all likelihood, hacking is not the correct explanation for this outburst. Madonna, who (from the comfort of a rose-petal-strewn bath) previously referred to the pandemic as "the great equalizer," has had the virus; now, she says, she only wants "to be released from the bondage of giving a fuck." Indeed.