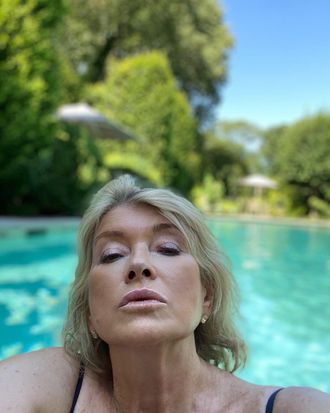 Photo: @marthastewart48/Instagram
In spite of all the images we are fed by the influencer crowd, I know I pretty much look like crap when I go swimming. My hair tangles into a single matted log, my swimsuit starts to sag at the butt, and if I'm wearing makeup — no matter how sexily I try to emerge from the water — I feel like I'm doing an impression of the corpse bride.
The truth is that few of us look good while submerged in water. The exception, of course, is Rihanna — though a water goddess who isn't of this earth is hardly a fair comparison. However, I would like to posit a new addition to the small but mighty looks-hot-while-swimming club: Martha Stewart. On Tuesday, Stewart posted an Instagram photo of herself in her pristine pool in East Hampton. While the caption mentions various specs about the pool's design, it is undoubtedly a "come hither" selfie.
As you can see, Stewart looks simply stunning. She appears to be wearing a light dusting of silvery eye shadow, some lip gloss, and is doing the sort of pouty lip pose that is most appropriate for a thirst trap — which is precisely what this is. Maybe she actually did go swimming afterwards, or maybe she simply got dolled up and half-submerged herself in her gigantic pool for the express purpose of taking hot photos, which is the kind of exquisite lockdown lifestyle I can really get behind.