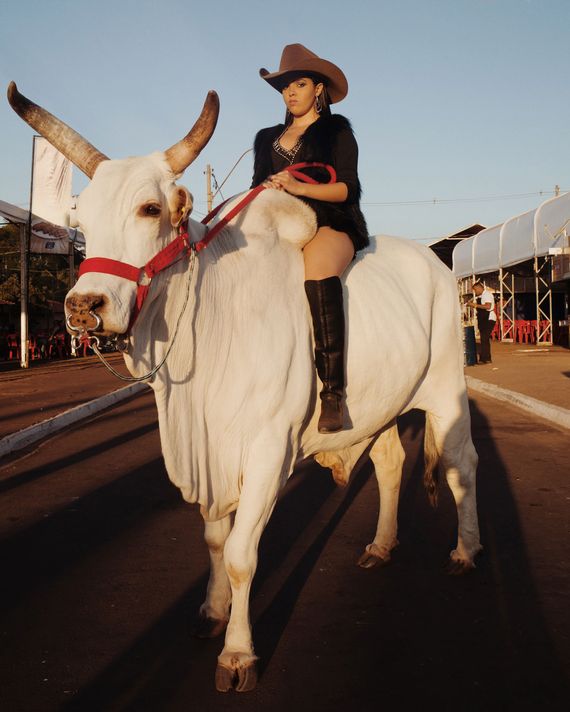 In Barretos, and many other towns that host rodeos, women are not allowed to compete in bull riding. They may ride horses or demonstrate roping skills, but bull riding is off limits. It is thought of as too dangerous for women. Natasha Alves do Santos, a 20-year-old police officer from the state of São Paulo rides one, for fun, regardless. Barretos Festa do Peão, São Paulo, 2018.
Photo: © Luisa Dörr
Adriana Loureiro Fernández knows that the best artistic subject is often the most familiar one. The Caracas-based photographer's work focuses on social conflict and youth culture in Latin America and the Caribbean and has been featured in the New York Times, NPR, and Bloomberg; but, her well-established métier began with "a very crappy DSLR" she received as a present in college and that she used to capture her friends' daily activities.
"At the time, I felt I wasn't really doing much other than living my life and having a camera around," she says. "But as years went by, a couple of college professors realized that what I had photographed had a documentary value. I was showing this side of the city that so many Venezuelans didn't get to see. I was photographing Caracas at night, and this underworld that existed."
Fernández's ongoing visual journey has culminated in Paraíso Perdido, a series of powerful images that span nearly a decade and rotate monthly so that they "always feel like a different project each time around." The latest iteration of the series is currently on display at the Bronx Documentary Center's third annual Latin American Foto Festival, which highlights work by award-winning Latin American and Caribbean photographers.
"In this edit of Paraíso Perdido, I'm really trying to focus on what I'm calling 'the visuals of magical realism.' So the photographic process is always initiating from a fact, but I'm exploring the otherworldly experience of those facts. I'm always trying to incorporate a little bit of surrealism into a very real scenery, which is how I interpret Venezuela's current reality," Fernández muses. The result is a compelling exploration of a country that, while presently entrenched in political turmoil and social unrest, has in the past been defined by the unwavering optimism and perseverance of its people. Paraíso Perdido, much like the other projects on display at the exhibition, oscillates between expressions of pain and beauty as it surveys the adversity that many marginalized communities have endured, as well as the love that binds them.
Luisa Dörr's In the American South, for instance, relies on portraits of women who have been largely excluded from Brazil's cowboy culture as a vehicle to "tell narratives and explore the complexity of human nature and femininity." "For me," says Dörr, "this work is about the juxtapositions of modern Brazil — of the transition from historic tradition to pop culture. Ultimately, it's a world that few people know." In this world, women balance their recent winning streaks as rodeo pageant beauty queens, horse-riding champions, and country music stars against the still-pervasive culture of machismo.
Although the coronavirus pandemic has forced this year's Latin American Foto Festival to look a bit different than it normally would — outdoor banners and projections will replace the usual sprawling indoor galleries and in-person activities — the festival remains committed to promoting deep engagement and layered dialogue between artists, their surroundings, and the broader world.
This year, the center launched virtual tours, workshops, and panels for its online and surrounding Bronx community and formed an 18-member COVID LATAM collective — a team dedicated to documenting the virus's impact in Latin America — which is showcasing its work at the Melrose Playground on Courtlandt Avenue.
All of the art from the festival can be viewed in person now through August 9.