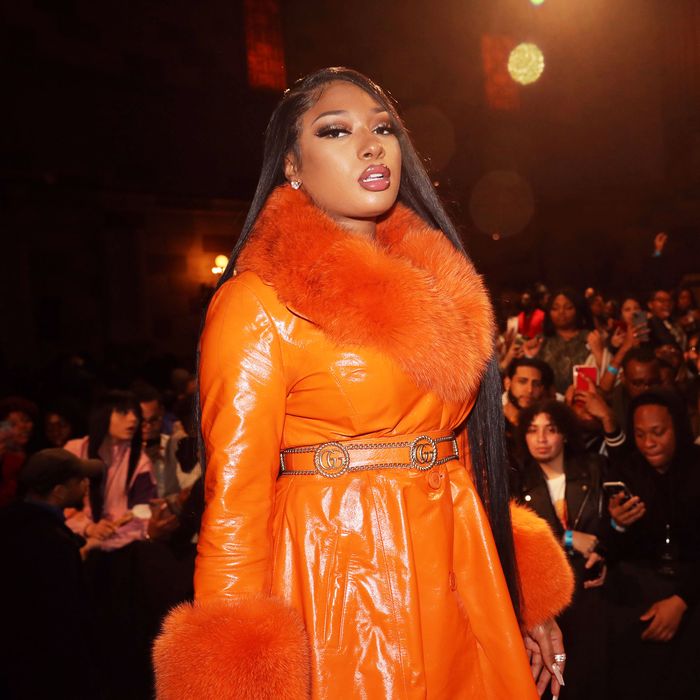 Megan Thee Stallion
Photo: Johnny Nunez/WireImage/Getty Images
Megan Thee Stallion is currently recovering from multiple gunshot wounds after being shot over the weekend.
In an Instagram post on Wednesday, the 25-year-old rapper said that on Sunday morning she "suffered gunshot wounds, as a result of a crime that was committed against me and done with the intention to physically harm me."
It is unclear right now who fired the shots.
According to Variety, earlier that evening, Megan and the rapper Tory Lanez (whose real name is Daystar Peterson) attended a party at Kylie Jenner's house. Later, the two were in an SUV together in Hollywood when two shots were fired into the air. Police later pulled over Lanez and found a weapon in his car. Megan and another woman were also in the vehicle. Lanez was reportedly arrested on felony charges at 4:40 a.m. Sunday and released on a $35,000 bond around six hours later
In the post, Megan wrote that the initial reports about the incident were inaccurate. TMZ initially reported that she had cut her foot on broken glass on the floor of the vehicle and was taken to the hospital to treat those cuts. The rapper said that she was never arrested and that "this whole experience was an eye-opener and a blessing in disguise. I hate that it took this experience for me to learn how to protect my energy."
She added that she was "incredibly grateful to be alive" and that she is expected to make a full recovery.