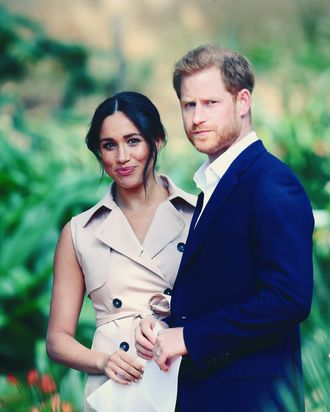 Meghan Markle and Prince Harry.
Photo: Chris Jackson/Getty Images
Meghan Markle and Prince Harry are gearing up to wage yet another legal battle over what they see as an egregious invasions of privacy. On Thursday, the former royals filed a lawsuit in their new home state of California over "intrusive" paparazzi photos of their 1-year-old son, Archie.
According to the suit, which the Hollywood Reporter obtained, media outlets and paparazzi have gone to absurd, unlawful lengths to photograph their toddler at their Hollywood Hills home: Some have "flown drones a mere 20 feet above the house, as often as three times a day," while "others have flown helicopters above the backyard of the residence, as early as 5:30 a.m. and as late as 7:00 p.m." And then, "others have even cut holes in the security fence itself to peer through it."
At first, the suit claims, the former royals attempted to disregard the paparazzi. But when they discovered that photos of Archie were being shopped around — and were deliberately "mislabeled" as being captured in public — the couple resorted to legal action. As the lawsuit states, California residents are "guaranteed by law the right to privacy in and around their private residence." Per the suit, the former royals are also motivated by "the desire and responsibility of any parent to do what is necessary to protect their children from this manufactured feeding frenzy."
By now, Meghan and Harry are accustomed to brushes with paparazzi. The former royals have spent the better part of 2020 upending their lives and resettling in locations spanning the world, in part to escape the press' relentless pursuit. After shedding their royal titles and leaving the U.K. — where they sued the publisher of the Daily Mail and other tabloids for violating Meghan's privacy — they jetted to Canada. But they didn't stay long; per the recent lawsuit, they were forced to upend their lives yet again after the Daily Mail published their address. Which brought them to California — where the former royals are, yet again, warring with the paparazzi.
As the Hollywood Reporter notes, Meghan and Harry hope that, through the lawsuit, they will identify the offenders and deter potential buyers who may not know that the photos of Archie were taken as their private residence. Once the defendants are identified, Meghan and Harry are seeking for the court to demand they "turn over all photographs and images."