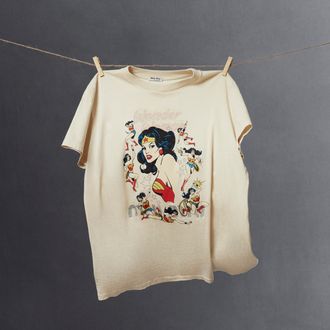 Photo: Courtesy of Miu Miu
A new capsule collection from the Italian brand Miu Miu captures two joys from my childhood: fashion and Wonder Woman. As a kid, I was dismayed to realize how hard it is to obtain superpowers or a really good pin-up look. So my inner child is very excited about Miu Miu's new Wonder Woman T-shirts.
If you're not a comic book nerd like me, let me give you some context. Wonder Woman made her debut in All Star Comics in 1941. She was originally inspired by early campaigners for women's rights, particularly Margaret Sanger, pioneer of the birth-control movement. (Sanger best known for founding a clinic that later became Planned Parenthood, although her legacy is currently being reevaluated due to her views on eugenics.) In the comics, Wonder Woman — also known as Princess Diana of Themyscira and, in her civilian identity, Diana Prince — was crafted out of clay by her mother, Queen Hippolyta, and her powers were bestowed by the Greek gods. With her invisible plane, golden lasso of truth, and mythical abilities, she is arguably the ultimate superhero.
For their capsule collection, Miu Miu created three different graphic tees, featuring Wonder Woman fighting the forces of evil in different poses. They're all available here to purchase, but even looking through them will make you smile if you're a fan.