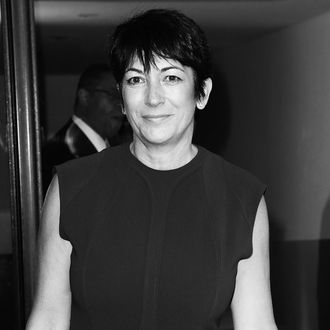 Ghislaine Maxwell.
Photo: Jimi Celeste/Paul Bruinooge/Patrick McMullan via Getty Images
Documents from a 2015 court case unsealed late Thursday night add bleak color to the much-reported allegations of grooming, trafficking, and sexual abuse of minors at the hands of Jeffrey Epstein and Ghislaine Maxwell.
The material, some of which is being seen publicly for the first time, resurfaces existing allegations and adds more grim details to allegations already widely public. Virginia Giuffre, now 36, has alleged for years that she was a "sex slave" to Epstein, brought into the fold and groomed as well as abused by Maxwell and sent out to many of their prominent friends for sex. (Some are famous names already associated with Epstein's crimes — Prince Andrew and Alan Dershowitz recur often; both men have denied these claims — but so are a chillingly anonymous horde of others: "another prince, the large hotel chain owner." "Lots of people owed [Epstein] favors from what he told me," Giuffre told lawyers Brad Edwards and Jack Scarola in an interview unsealed for the first time — Bill Clinton among them. (Giuffre does not allege any abuse by Clinton.)
In a 2016 deposition for her case — Giuffre sued Maxwell for defamation after Maxwell claimed publicly that her allegations were lies — Giuffre describes abuse beginning almost immediately after Maxwell discovered her working in the spa at Donald Trump's Mar-a-Lago resort in 2000 and invited her to Epstein's Palm Beach mansion nearby. Though Maxwell's lawyers in the ongoing federal criminal case against her have sought to make the case that "our client is not Epstein," Giuffre's deposition paints another picture:
You have to understand that Jeffrey and Ghislaine are joined hip by hip, okay? So they both trafficked me. Ghislaine brought me in for the purpose of being trafficked. Jeffrey was just as a part of it as she was. She was just as a part of it as he was. They trafficked me to many people. And to be honest, there is people I could name and then there's people that are just a blur.
Giuffre describes spending teenage birthdays with Epstein and Maxwell ("It's hard for me to really pinpoint exactly which birthday it was"); the first cell phone she owned, she says, was given to her by Maxwell. But she alleges that sexual abuse was constant, at the hands of Maxwell as well as Epstein, often in "orgies." She describes Maxwell soliciting girls everywhere, easily: a redhead on the streets of Paris, unnumbered young women, many of whose names she didn't know, brought to Epstein's private island in the U.S. Virgin Islands. "They didn't even speak English," Giuffre said. (In her interview with Edwards and Scarola, Giuffre also describes being sent out to find girls to bring in herself, with instructions from Epstein: They were to be "young, pretty, you know, a fun personality. They couldn't be black.") Asked where she participated in sexual contact with Maxwell, Giuffre simply replied, "Everywhere."
Maxwell has denied Giuffre's accusations publicly and in a 2016 deposition, and the civil case was settled in 2017, at which point these documents were sealed. The unsealing follows a lengthy court battle waged by a group including reporter Julie K. Brown and the Miami Herald. Maxwell has pleaded not guilty to the criminal charges against her.
Among the biggest revelations of the materials unsealed last night was a handful of emails between Maxwell and Epstein from 2015. (As Adam Klasfeld of Courthouse News notes, they contradict the Maxwell defense's claim that she had not spoken with Epstein in a decade.) At the time, Epstein prepared a statement in Maxwell's voice denying "false allegations of impropriety and offensive behavior I abhor" and seeking to discredit Giuffre. He also wrote, errors his own:
You have done nothing wrong and i woudl urge you to start acting like it. go outside, head high, not as an esacping convict. go to parties. deal with it.. i had lisa svenson the swedish ocean ambassador yesteady she said no one on her ocean panel takes this stuff seriously and you would be welcoe to the ocean conferenec water conference etc.
The release follows a week of an increasingly contentious back-and-forth between lawyers for Maxwell, who is currently being held in jail after being indicted for sex trafficking and perjury, lawyers for Giuffre, and U.S. District Judge Loretta A. Preska. "Just yesterday, the Court admonished Ms. Maxwell for filing an 'eleventh-hour request for reconsideration' on grounds that could have been raised well before the Court ordered the relevant documents unsealed," Preska wrote on Thursday. "The Court is troubled — but not surprised — that Ms. Maxwell has yet again sought to muddy the waters as the clock ticks closer to midnight."
Some additional documents, including two of significant interest — a deposition by Maxwell herself and a deposition by a Jane Doe Epstein accuser — were held back, pending an appeal to the Second U.S. Circuit Court of Appeals, which on Friday night granted a stay. Small selections from the Maxwell deposition were quoted in the government's indictment as the basis for two charges of perjury, but the full deposition has not otherwise been publicly available. In their order, U.S. Circuit Court judges José A. Cabranes and Rosemary S. Pooler expedited the appeal and said they would hear arguments on September 22. The Second Circuit previously ruled to unseal many of the documents already made public from the Giuffre suit.
This post has been updated with additional information about Maxwell's appeal.