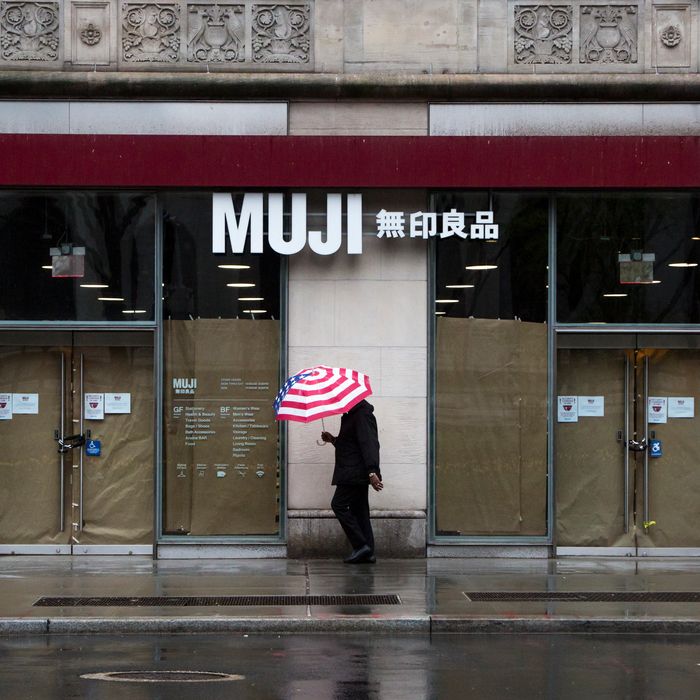 A man walks in front of a Muji store, closed because of the COVID-19 pandemic, on April 24, 2020 in New York City.
Photo: Corbis via Getty Images
On Friday, Muji joined the ever-growing list of retailers filing for bankruptcy in the United States during the coronavirus pandemic.
It's been a particularly rough week for the industry, with Brooks Brothers announcing bankruptcy on Wednesday and smaller retailers like Need Supply and Totokaelo in the process of closing as well. Don't panic, though. According to a press release from Muji, it sounds like the beloved Japanese emporium, known for its soothing gel pens and minimalist home goods and clothing, will be okay for now.
Filing for Chapter 11 protection will hopefully allow the company to restructure its U.S. business to focus more on e-commerce. Although Muji's online store and currently operating retail locations remain open, the company does anticipate the "closure of a small number of its brick-and-mortar stores" in the future as it makes this shift. Its international operations will not be impacted.
"Muji has felt the devastating effects of the COVID-19 pandemic on in-store retail, and as a result will take this opportunity to refocus our efforts in the United States on key regional markets and e-commerce," Muji U.S. CEO Satoshi Okazaki explained in a statement. "We remain committed to bringing the best of Japanese lifestyle products to our American customers, and hope to swiftly bring this restructuring to a close in order to better serve them."
According to Bloomberg News, though, the pandemic is not entirely to blame. A bankruptcy statement from Muji's parent company, Ryohin Keikaku, reportedly revealed that its business in the U.S. has been operating at a loss for the past three fiscal years, with a loss of around $10 million last year. Bloomberg cites high rents and cheaper knockoffs, among other costs, as contributing factors to its financial troubles.
If you were thinking about stocking up on more gel pens, self-isolation diary notebooks, and maybe a calming diffuser, do it now.