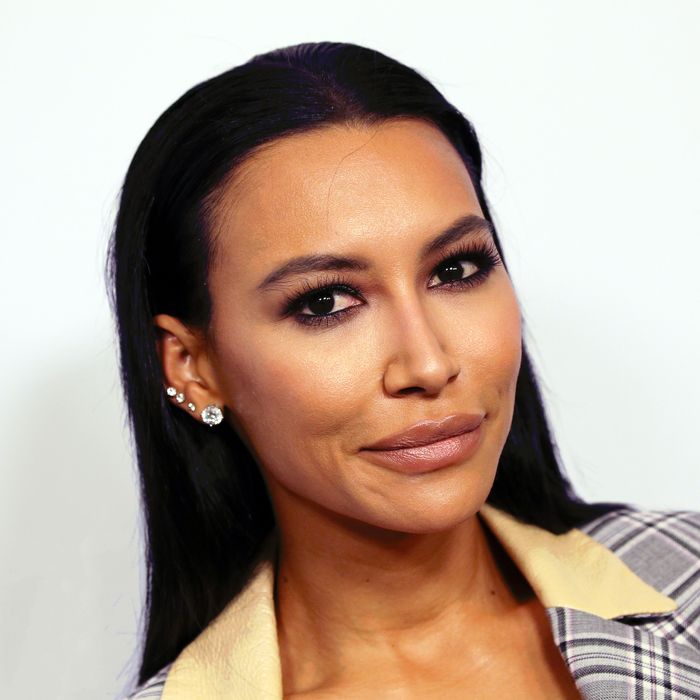 Naya Rivera.
Photo: David Livingston/Getty Images
Five days after former Glee actress Naya Rivera went missing while boating with her son on Lake Piru in California, Ventura County sheriffs announced in a press conference on Monday that they've found a body they believe to be Rivera's. On Tuesday, the Ventura County Medical Examiner's Office determined that she had died from accidental drowning. The actress and singer was 33.
Rivera was reported missing last Wednesday, July 8. She and her 4-year-old son, Josey, arrived at Lake Piru around 1 p.m., and Rivera rented a pontoon boat that the two took out onto the water. Three hours later, another boater found Josey asleep in the boat alone. The child was wearing a life vest when he was found, but Rivera's life vest was still in the boat, as were her purse and wallet.
At a press conference on Monday, Ventura County Sheriff Bill Ayub recalled Rivera's son describing to investigators how he and his mother had gone swimming, and how — after she boosted him back onboard — he "saw her disappear under the surface of the water." She never got back into the boat, which reportedly began to drift as the pair swam. According to the medical examiner, the autopsy results were "consistent with a drowning." It turned up no signs of foul play, nor any signs of trauma or substances.
Ventura County sheriffs launched a massive search for Rivera last week, and divers, helicopters, and cadaver dogs have been combing through the area for days.
Over the weekend, Robert Inglis of the Ventura County Sheriff's Office Search & Rescue Team told Us Weekly that authorities were using a photo Rivera had sent to a family on the day she disappeared to help locate her. The timestamp on the photo showed that it was taken an hour and a half to two hours before Rivera's son was discovered on the boat.
"There was a picture sent to a family member that showed the boy on the boat by a cove," Inglis said. "We found where that cove was."
On Monday morning, the sheriff's department announced that a body had been found; in a Monday afternoon press conference, a spokesperson said they were confident the body was Rivera's.
Prior to the press conference that afternoon, former Glee cast members gathered together at the lake to share a moment of silence in honor of Rivera.
After authorities confirmed her death, Rivera's colleagues shared their memories of the actress. "How can you convey all your love and respect for someone in one post?" her former Glee costar, Chris Colfer, wrote on Instagram. "How can you summarize a decade of friendship and laughter with words alone? If you were friends with Naya Rivera, you simply can't. Her brilliance and humor were unmatched. Her beauty and talent were otherworldly. She spoke truth to power with poise and fearlessness. She could turn a bad day into a great day with a single remark. She inspired and uplifted people without even trying. Being close to her was both a badge of honor and a suit of armor. Naya was truly one of a kind, and she always will be."
"You shined on stage and screen and radiated with love behind closed doors," Glee's Jenna Ushkowitz wrote on Instagram. "I was lucky enough to share so many laughs, martinis and secrets with you. I can not believe I took for granted that you'd always be here. Our friendship went in waves as life happens and we grow, so I will not look back and regret but know I love you and promise to help the legacy of your talent, humor, light and loyalty live on."
Another of Rivera's Glee castmates, Alex Newell, wrote on Twitter: "Now more than ever we must lift her family and friends up, especially Josey! My heart is sent to them… I love you Naya!" Kristin Chenoweth added: "Thank you for what you gave the world. I love you."
Condolences also poured in from actors — even politicians — who knew Rivera only through her work. "I am deeply saddened to hear about the passing of Naya Rivera," U.S. Representative Alexandria Ocasio-Cortez wrote on Twitter. "The talent and depth Naya brought to her characters inspired millions. As a Latina, it's rare to have rich, complex characters reflect us in media. Naya worked hard to give that gift to so many. Que descanse en paz."
"I grew up watching Glee — and Naya Rivera was such a beautiful talent," Lili Reinhart wrote. "My heart breaks for her son."
Paula Abdul called Rivera "a true talent gone too soon."
In her tribute, singer Bryana Salaz highlighted the importance Rivera's character held for her onscreen, writing: "Didn't realize the impact u had on my life growing up, being the first POC, LGBTQ character I saw on screen. I grew up listening to u sing, being inspired by the girl on Glee who looks like me & is unapologetically herself. You changed so many lives. Rest easy angel."