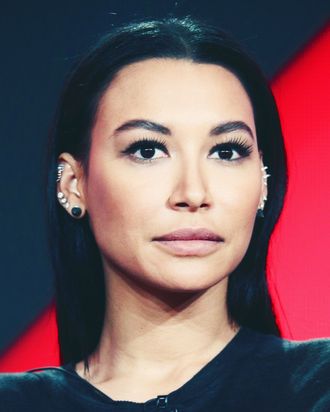 Photo: Frederick M. Brown/Getty Images
On Thursday morning, search parties resumed their attempt to locate Glee actress Naya Rivera, who's been missing from Lake Piru in Ventura County, California, since Wednesday afternoon. Local authorities now believe she has drowned.
Rivera was last seen taking a rented pontoon boat out on the lake with her 4-year-old son. About three hours later, a boater came upon Rivera's son, apparently unharmed, sleeping in the boat alone, and alerted authorities who began their search for Rivera using helicopters, drones, and divers. Rivera's son told investigators that he had been swimming with his mother, but she hadn't returned to the boat. Rivera's identity was confirmed after investigators found her wallet and ID on the boat, the Los Angeles Times reports.
"We're presuming that an accident happened, and we're presuming she drowned in the lake," Ventura County Sheriff's Department deputy Chris Dyer said at a news conference on Thursday, according to CNN. "The goal is still to bring Miss Rivera home to her family," with the search-and-rescue operation now focused on recovering Rivera's body.
Ventura County Sheriff's captain Eric Buschow had previously said at a press briefing, "We're going on the belief that she did go in the water, and we have not been able to locate her. So this may well be a case of drowning." Buschow said search teams from neighboring counties would join in the resumed rescue efforts on Thursday. The search has so far been challenging, according to Buschow, due to the size of the lake and problems with visibility.
On Tuesday, Rivera posted an image on Twitter of herself and her son with the caption, "just the two of us."
Celebrities and colleagues have been responding to Rivera's tragic disappearance on social media.
Rivera's friend and Glee costar, Heather Morris, has requested to help the Ventura County Sheriff's Department with its investigation, tweeting at them to ask if she and a "small group of friends" could "conduct an on foot search and rescue mission … at Lake Piru."
"I understand your team is doing everything in their power, but we are feeling helpless, powerless and want to help in any way," Morris wrote, noting in a subsequent tweet that she had already contacted, and would continue to contact, the office. They do not appear to have responded.
TMZ also reports that an official from the Ventura County Sheriff's Department says authorities have been searching the cabins around Lake Piru, in an effort to dispel public speculation that kidnapping or foul play may have resulted in Rivera's disappearance. According to TMZ, investigators believe Rivera's body is still in the water.