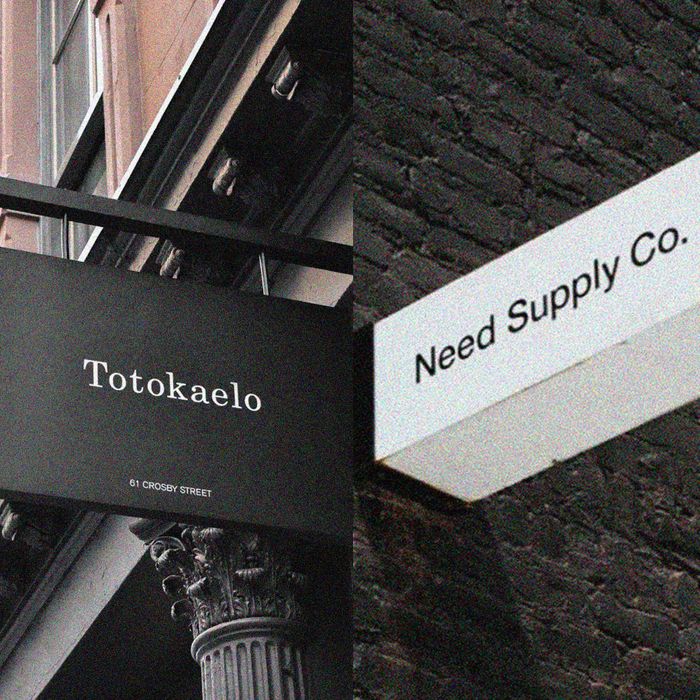 Shop no more.
Photo: Totokaelo, Need Supply Co.
Totokaelo and Need Supply, sister retailers/e-tailers under the NSTO banner, are closing, multiple sources told the Cut, casualties of a challenging retail environment and the ongoing impact of the COVID-19 pandemic. Staff were informed in a companywide call last week.
"Need Supply and Totokaelo have made the difficult decision to wind down their businesses and operations in an orderly fashion," Corey S. Booker, a lawyer for NSTO, confirmed on Tuesday. No timeline was specified.
Need Supply is the larger business, which began as a Richmond, Virginia, shop and grew into a significant web operation selling designer fashion and its own house label, as well as many brands and items at the more affordable contemporary price point. Totokaelo, by contrast, focused on designer labels. Like Need, it grew from a single regional boutique, in Seattle, into a profitable e-commerce player and, eventually, added a big, ambitious Manhattan flagship in 2015. Totokaelo was originally the brainchild of Jill Wenger, who epitomized the store's avant-garde sensibility with her drapey Yohji Yamamoto clothes and cloven-hoof Margiela Tabi boots. "Our client comes to us because they want clothes they can put on with sneakers and a giant cardigan or blazer and tromp around and do life in," she told the New York Times  just before the store's opening. At the time, Totokaelo was a profitable business, doing $17 million in sales.
But the following year, in 2016, Totokaelo was acquired by Herschel Capital Corp., the owning company of Canada's Herschel Supply Co. accessories line. As part of this deal, some of Totokaelo's operations merged with the larger Need Supply Co., in which Herschel had acquired a minority stake that year. Wenger exited Totokaelo weeks after the sale, and the two retailers were eventually brought together under the holding company NSTO, though they maintained separate brands and stores. (Herschel Capital Corp. is now known as Cormack Capital.)
Nevertheless, Totokaelo continued to grow, adding its own label, Totokaelo Archive, and expanding categories like home goods, jumping from its original, multistory Crosby Street flagship to a "residency" in the historic former Germania Bank Building on Spring Street, a graffiti-covered New York curiosity for years (now a Supreme store), and then back to a separate space on Crosby. It remained a reliable source of high-end fashion from the likes of Margiela, Yamamoto, Comme des Garçons, Raf Simons, and the host of younger designers who worked in their long shadow.
Negotiating local New York–, Richmond-, and Seattle-based retail business and attempting to scale global e-commerce businesses from Richmond, where NSTO was headquartered, created logistical bottlenecks and operational issues, and the company struggled with cash-flow issues, leaving previous orders unpaid as the next season's deliveries were needed on the racks and the website. Layoffs began early in the year and intensified when the pandemic hit. When protests and cries for equality and justice followed shortly thereafter, Need and Totokaelo's efforts to respond online were widely mocked for being tin-eared and insufficient. But stubborn optimism remained the rule on the sales floor. "We were making some significant breakthroughs in the last few months," one salesperson said; sales to devoted clients around the country continued even as the stores closed. "Fall was going to be incredible. We were on our way."
The ongoing COVID-19 crisis has hit retail particularly hard, and the statistics concerning clothing stores have been especially bleak. According to the most recent data released by the Department of Commerce, estimated monthly sales for the period March through May 2020 were down 66.6 percent over the comparable period in 2019.
Neither Totokaelo nor Need Supply has made any public announcement of its closure, and their regularly scheduled end-of-season sales are continuing apace. As of Monday morning, chirpy emails continued to tout new products, like a dress that "continues our day-to-nightwear exploration."