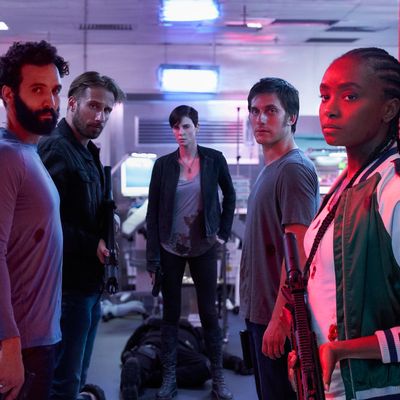 Photo: AIMEE SPINKS/NETFLIX
Sometimes you need a really good action movie. Hot dummies in hand-to-hand combat, some apocalyptic call to action, mind-numbing fight sequences — a bit of kissing. Mostly, when I watch an action movie I have no idea what's going on, and my mind achieves a state of relaxed zen, wherein my only thoughts are things like, duck! and, ouch, and I wonder if I could do that? 
Superhero movies sometimes do this for me, but I'm loath to engage in what the Daily Beast's Kevin Fallon calls "the Marvel-DC dick-measuring contest." The mainstream superhero machine has simply become too relentless, like every hot person in Hollywood is put in a blender with a ton of spandex and misconstrued Norse mythology making for a confusing and dissatisfying mess.
And so I was a little skeptical when I came to Netflix's The Old Guard, which billed itself as a film about "four undying warriors who've secretly protected humanity for centuries become targeted for their mysterious powers just as they discover a new immortal." It sounded a little Marvel-y to me, you know? But I had hope. First, because of Charlize Theron, who can play serious dramatic roles whenever she wants but has blessed the world by choosing action jobs that mainly involve her beating men up while wearing seriously tight black jeans. The second reason was director Gina Prince-Bythewood, who has made many films, but is best known for her masterpiece Love & Basketball (2000). I knew I could trust her.
And The Old Guard delivers. Yes, there's a lot of stabbing and bone breaking and machine gunning, etc., but Prince-Bythewood steps away from that to allow the plot and its characters to breathe. You can actually follow the story, which moves from themes like love and chosen family to the human cost of capitalism. At the film's center is a tender and expansive performance by Kiki Layne (If Beale Street Could Talk), who plays Nile, a U.S. Marine turned immortal who is taken under the cynical wing of Theron's Andromache of Scythia ("Andy") (yes, Theron kept the bowl cut for the role, and, yes, it looks incredible). Nile is introduced to Andy's band of immortals, a group of elite fighters who have lived for centuries, and so are in varying stages of disillusionment over the state of the world. Of course, this may sound like a lot of incomprehensible superhero-movie babble, but between its thoughtful performances and genuinely riveting plot points, The Old Guard — whose film adaptation was written by its comic-book author, Greg Rucka — is a totally coherent and compelling piece of cinema, which is more than I can say for the last 1 billion DC movies.
The film has been at No. 1 on Netflix all week, which is no surprise, because it's excellent. Other assets include an evil villain played by Dudley Dursley (actor Harry Melling), who is trying to steal the immortals' DNA for his pharma giant, and a sweeping queer love story between Joe (Marwan Kenzari, a.k.a. hot Jafar in the live-action Aladdin) and Nicky (Luca Marinelli). They are gay superheroes — who make out and kill people onscreen — which is not something that decades of American superhero films have bothered to do.
So, if you haven't yet, do yourself a favor and stream The Old Guard. It's a rare and fresh take on a glutted genre, with female leads, a heartbreaking love story, and a plot that isn't completely obstructed by boob armor.