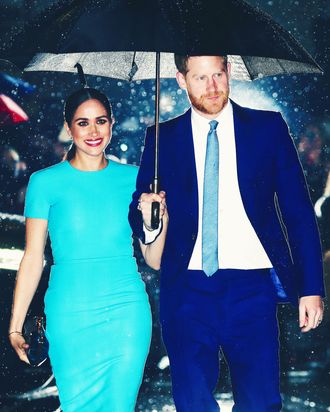 Photo: Chris Jackson/Getty Images
It turns out that members of the royal family and their ilk were huge snobs to Meghan Markle when Prince Harry started dating her in 2016. New details have emerged about how the royals, including Prince William and Kate, gave Meghan Markle a chilly reception after Prince Harry first introduced her to the family, as well as throughout their first year of marriage and Meghan's pregnancy.
A new book by royal reporters Carolyn Durand and Omid Scobie, Finding Freedom, chronicles the escalating tensions between Prince Harry, Meghan Markle, and the rest of the royal family leading up to their unprecedented decision to step back as senior members of the royal family in January.
According to an excerpt published in the London-based newspaper the Times, Prince William gave Harry early warnings about Meghan. A source close to William said that he didn't want Harry to be "blindsided by lust" and told him to "take as much time as you need to get to know this girl." Scobie and Durand add that there was existing tension between the brothers before Meghan entered the picture.
The authors also describe how the rest of the family and royal household were either perplexed by or openly rude to Meghan, with one senior courtier apparently saying: "There's just something about her I don't trust," and another calling her "Harry's showgirl."
The authors also provide more insight into Kate's relationship with  Meghan. "Though it was not necessarily her responsibility, Kate did little to bridge the divide. She was fiercely loyal to her husband and his family," the authors write, adding that apparently Meghan and Kate "struggled to move past distant politeness" and had "nothing in common other than the fact that they lived at Kensington Palace."
Meghan had apparently hoped that Kate, who was pregnant with Prince Louis at the time of her 2018 marriage to Harry, would show her the ropes. But according to Scobie and Durand: "The truth was Meghan and Kate just didn't know each other that well." They recount an awkward incident wherein the women crossed paths while living at Kensington Palace. Both were headed to the same street to go shopping, but Kate went one way in her own car, leaving Meghan alone.
Vanity Fair reports that at one point, Kate attempted to make amends by taking flowers to Meghan. Apparently Meghan told Kate quite clearly that the gesture was not enough. When the Sussexes moved out of Kensington Palace and into Frogmore House, where they lived for nearly a year, the Cambridges never visited.
Though Meghan and Harry have not addressed the specific claims in the book, a spokesperson for the couple said in a recent statement that the duke and duchess of Sussex, who are currently living in L.A., "were not interviewed and did not contribute to Finding Freedom," adding that the book is "based on the authors' own experiences as members of the royal press corps and their own independent reporting."