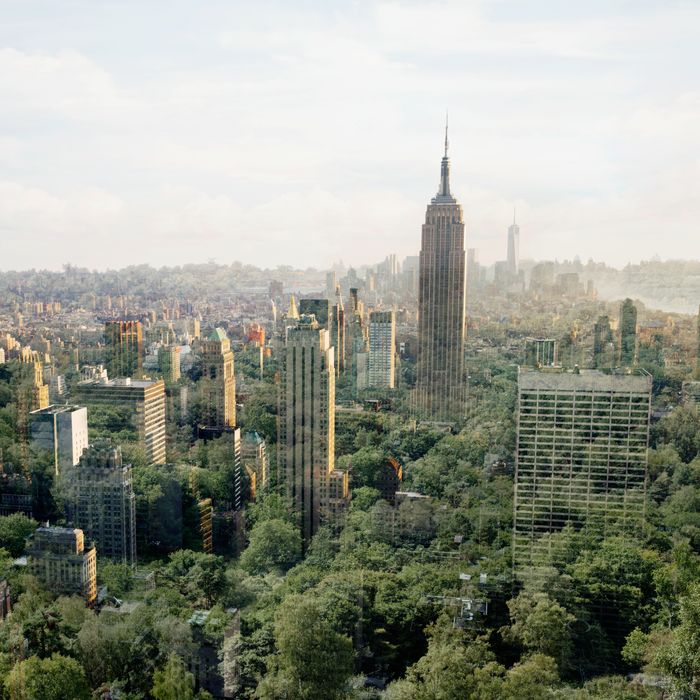 The subtropical city of New York.
Photo: Getty Images
It's approximately 1 p.m. in New York City, and I've already cranked my shabby window AC unit up to the highest cooling setting. According to one local forecast, temperatures are expected to hit the high 90s today, though it'll likely feel hotter than 100 degrees. Heat advisories have been issued for all five boroughs and will remain in effect until 8 p.m. It's so sweltering even energy companies are on high alert for the likelihood of heat-related outages. Just another day in the city's new subtropical climate, I guess!
Unfortunately, that's not an exaggeration. According to a distressing new report in the New York Times, New York City — formerly a humid continental climate — is now within the humid subtropical climate zone. In fact, per the report, the city has met the National Climate Assessment's requirements to classify as humid subtropical for the past five years: Temperatures have averaged above 72 degrees in the summer and 27 degrees in the winter. (During the first three months of this year, the average temperature in Central Park was over 42 degrees Fahrenheit, the director of the National Oceanic and Atmospheric Administration's Northeast Regional Climate Center told the Times.)
Horticulturists have pointed to a handful of clear indicators of the city's changing climate in addition to the rising temperatures: Flowers are blooming earlier than ever, the city's native birch trees and sugar maples are suffering from the sweltering heat and drought while plants and trees that have historically thrived in Southeast Asia and South America are now flourishing, and in lieu of moderate rainfall, we're now seeing torrential storms that erode soil and cause ponds to overflow. Also it's just really hot.
The main culprit is, quite obviously, climate change. Climate zones around the world are shifting at an alarming rate, and without drastic action to curtail emissions from fossil fuels and combat human activity that threatens the atmosphere, we'll likely see other cities follow New York's trajectory. And of course, our steaming concrete jungle will continue to get warmer. Per one study's estimation, by 2050, the city could be as hot as Alabama.